Cafe Orleans - dinner - September 11, 2006
We had made a lunch visit to Cafe Orleans when they reopened after changing over to being a table-service restaurant, and we wanted to try it for dinner as well. Though the menu was the same, there was at least one item that sounded good, but not in the middle of a hot summer day. We had a 6:30pm reservation, but we arrived early, at about 6:10pm, and they had tables available so we were almost immediately seated. Unlike during our lunch visit, we were asked if we wanted to be seated inside or outside, and we decided to have dinner inside. After sitting down at our table, we reminisced about how much we missed being inside Cafe Orleans. This had been one of our favorite restaurants, one we visited probably every other week, but then the menu changed several years ago and everything we liked was taken off to be replaced by menu choices that had no appeal to us. We had not therefore dined at Cafe Orleans in some number of years.
As a starter, I decided to again have the chicken gumbo, which was just as good as it was last time. The sausage gave the gumbo a nice bit of kick that I enjoyed. My husband had the french onion soup, which he really enjoyed. I had a taste as well, and it had very good flavor, salty and not sweet like it can sometimes be. There seemed to be ample bits of onion and a nice layer of cheese on top. It also came in a cute little soup crock. This is definitely something I'll be having on a future visit.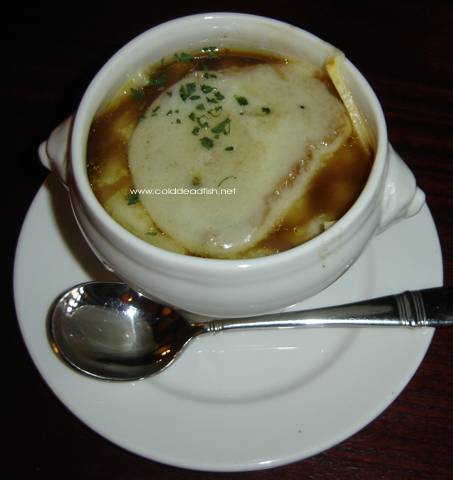 French onion soup.
The side handles are actually little animal heads.
For an entree, I decided to have the chicken caesar salad. Back when we were regular visitors to Cafe Orleans, the only thing I ended up ordering was their cajun chicken caesar salad, which I loved, and I've missed it since it's been taken off the menu. I knew this wasn't going to be the same, but I also knew I had to at least try it. The salad was ok, not bad, not spectacular. The romaine lettuce was plentiful and crisp. The only difficulty I find in having leaves of lettuce and the dressing drizzled is that you invariably have some pieces of lettuce that don't have dressing (which I don't mind) and some pieces that have blobs of dressing (which I do mind). I would prefer that they cut the lettuce and toss in the dressing before serving the salad when it comes to a dressing as heavy as a caesar. The chicken was ok, but it tasted somewhat processed. The salad was ok, but it is probably not something I'd order again.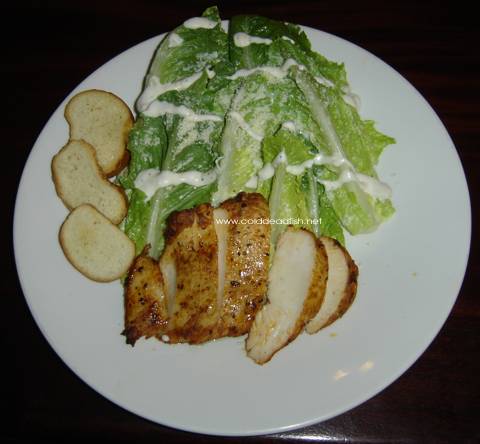 Chicken caesar salad.
My husband ordered the chicken gumbo crepe, which he rather enjoyed, unlike the seafood crepe he had during our lunch visit. He said this was something he would be inclined to order again.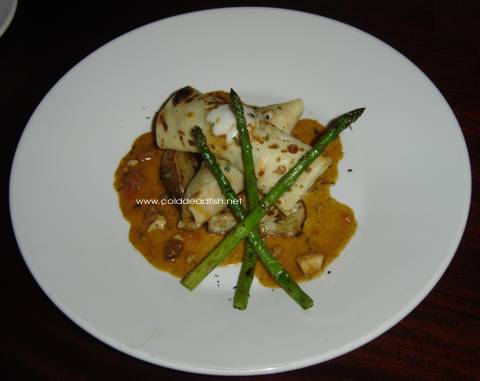 Chicken gumbo crepes.
We decided to skip dessert this time since one of the desserts wasn't something my husband liked and the beignets were too large a serving for just the two of us to share.
It was very nice to be seated indoors, which was air conditioned and was rather quiet. The service was fairly attentive, though we did have to ask once or twice to have our glasses refilled. Since the loud pirate band that plays next to the outdoor seating was done for the day, it would probably still have been pleasant to dine outside.
One thing I discovered - adults can order off the children's menu as well. You just receive a bigger portion of the baked macaroni and cheese or the chicken drummettes. With the peanut butter and jelly monte cristo, I believe you get the same portion, though I was unclear on that point. We had been discussing over dinner that the limited menu choices would make too many repeat visits difficult, but now that I know you can order adult-sized portions of the kids meals, I definitely know what I'll be having next time.
For a review of lunch at Cafe Orleans from early July 2006, please click here.
Back to DLR Restaurant Reviews.
Back to home.