Club 33 - dinner - April 23, 2011
We had previously enjoyed brunch at Club 33, but we were excited that we were going to our first dinner at Club 33, moreso because it also meant we would be able to spend some time with good friends. We had a late reservation, 9pm, and we met the rest of our group in front of the Club 33 entrance shortly before that, after navigating our way around the crowds and closures in effect for the first Fantasmic show, which starts at 9pm.
We went inside and were taken upstairs, and while our brunch experiences had been in the Trophy Room, we would be in the main dining room this evening. Our group was seated and drinks were ordered, and then we perused the menu.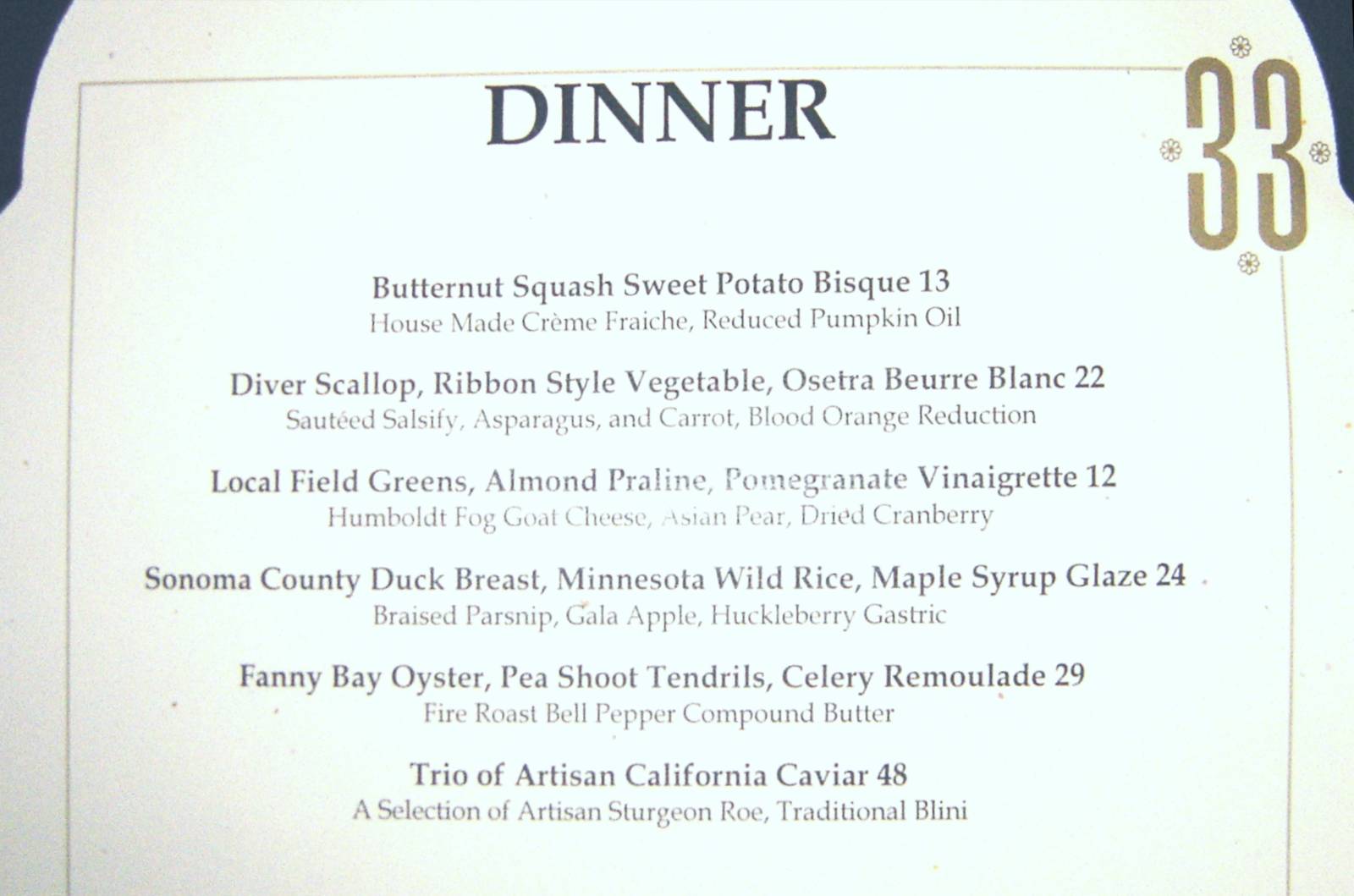 Appetizers on the dinner menu.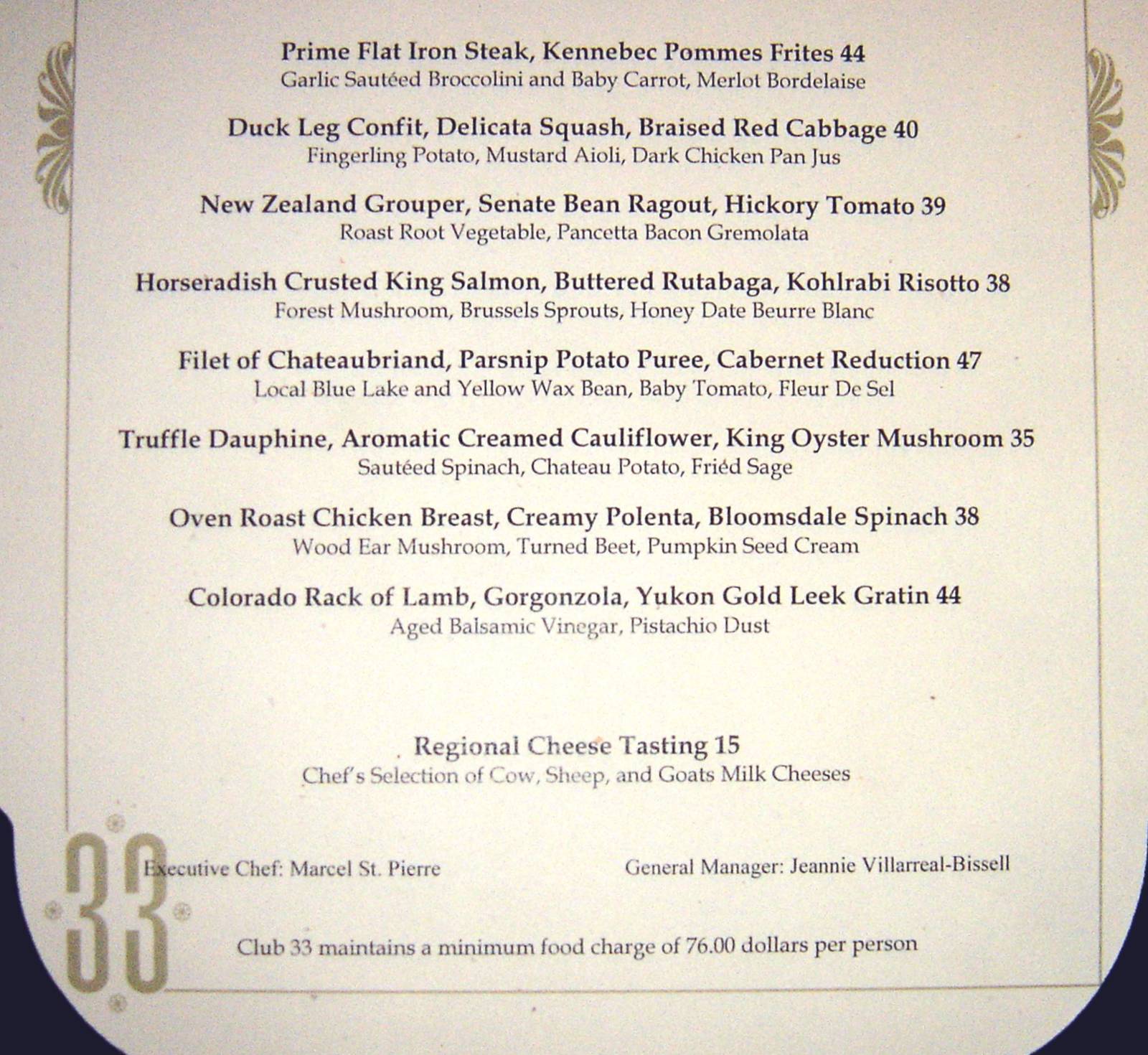 Entrees on the dinner menu.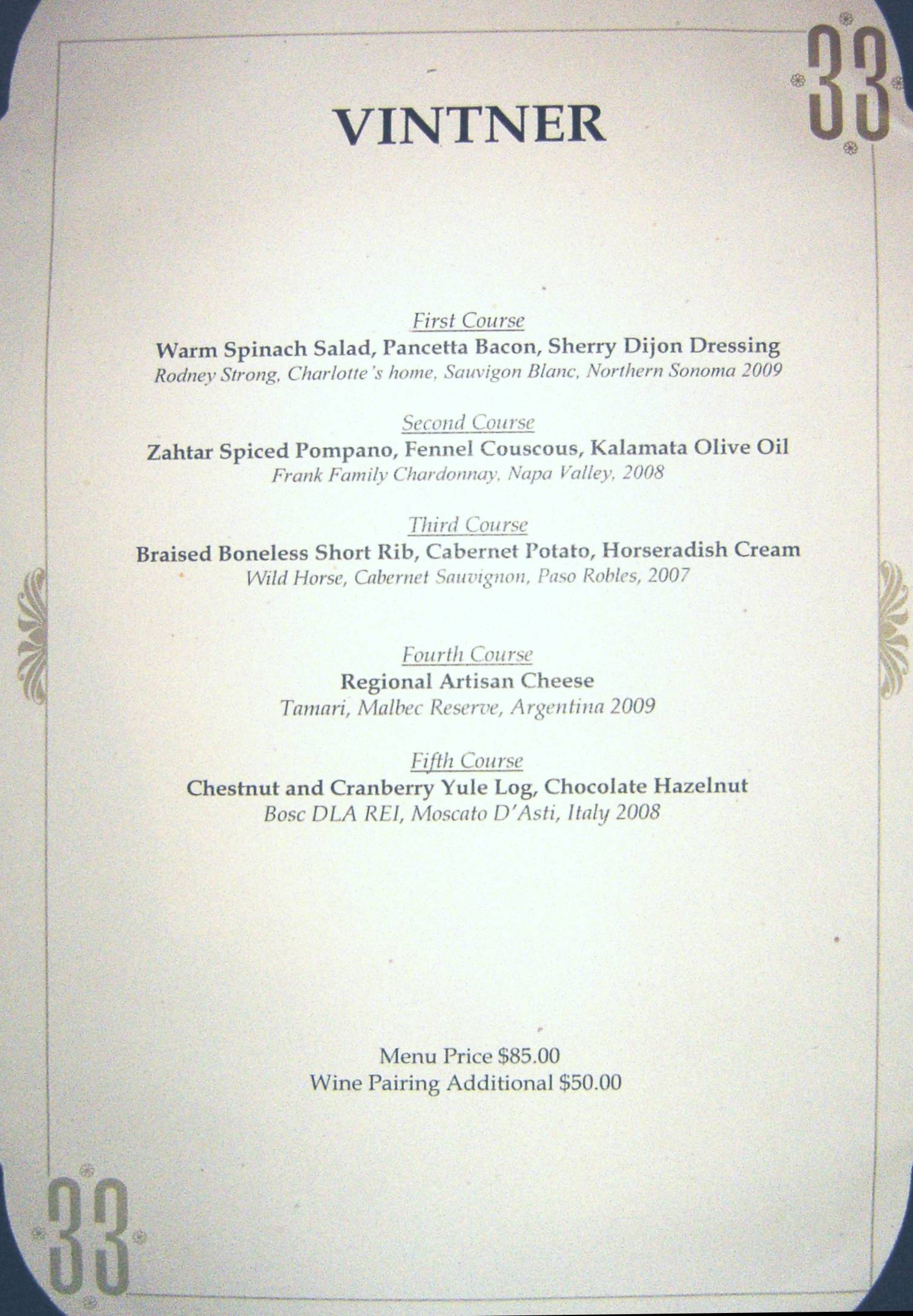 The Vintner's menu.
The husband and I each decided to order the Vintner's menu, and he included the wine pairings. Our dinner companions ordered from the regular menu.
The meal started with an amuse bouche for everyone at the table. It was a delicious little bite.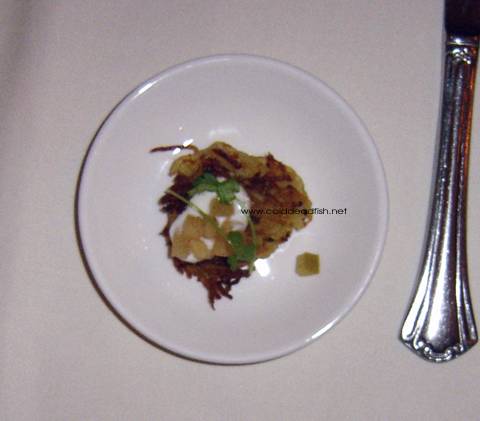 Amuse bouche - potato pancake with apple compote creme fraiche.
The first course of the Vintner's menu was a warm spinach salad with bacon. The salad was lovely, and the bacon pieces were substantial enough that you got a good taste of them with the spinach, and I loved the flavor of the dressing. It was a wonderful dish.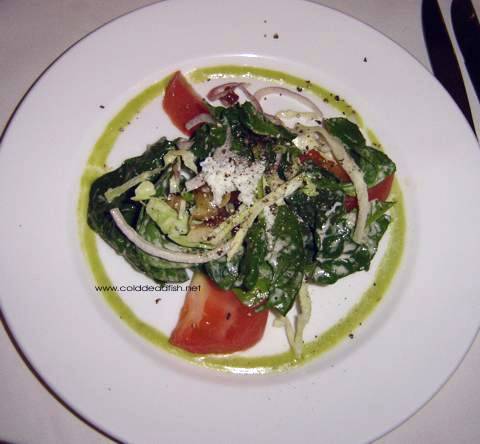 First course of the Vintner's menu - warm spinach salad, pancetta bacon, sherry dijon dressing.
A couple of our friends started with the butternut squash bisque.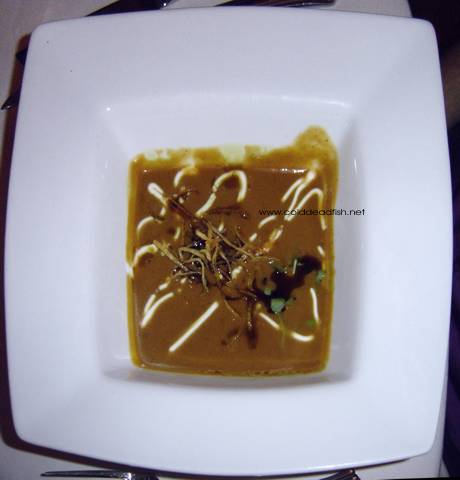 From the appetizer menu - butternut squash sweet potato bisque with house made creme fraiche and reduced pumpkin oil.
Our second course was pompano, and I generally like fish, though I'm not sure if I've had this particular kind of fish before. I thought the fish and the couscous were good, but I really liked the sauces that accompanied them as they gave the dish extra flavor.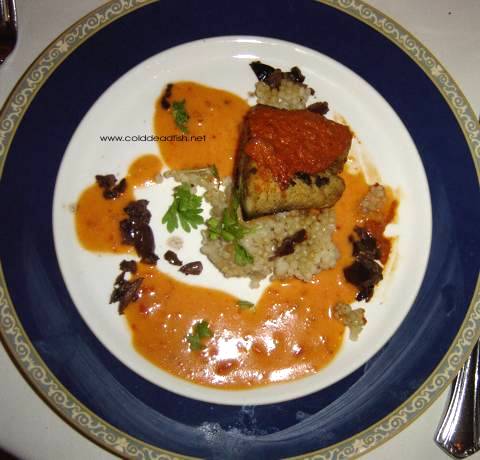 Second course of the Vintner's menu - zahtar spiced pompano, fennel couscous, kalamata olive oil.
During and in between courses, we were having a good time engaging in conversation - we are never lacking in things to discuss, debate and laugh about. Much of the conversation centered on the food and drinks as well as our surroundings. Since we were in the main dining room, the soundtrack of the Fantasmic show right outside permeated the room and served as nice background music to our meal.
Next, it was time for our main courses. For the Vintner's, it was short ribs with potato and some additional vegetables on the side. I'm usually a fan of short ribs, but I did find these to be a bit tougher than I'm used to, and it was also a bit more salty than I normally care for. I enjoyed the potato and the vegetables, and I ended up not finishing the short ribs, but there was plenty to eat for the night anyway.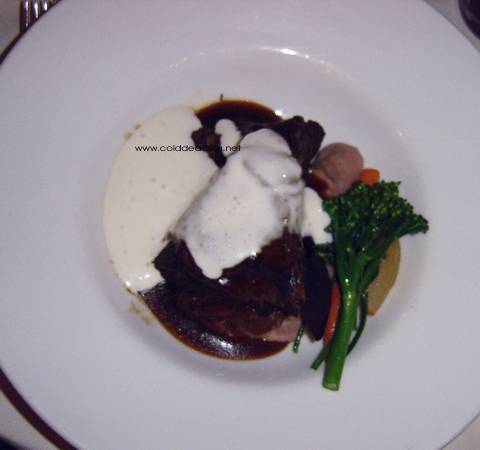 Main course of the Vintner's menu - braised boneless short rib, cabernet potato, horseradish cream.
Some of our friends had the chateaubriand, which is a favorite of theirs.
From the dinner menu - filet of chateaubriand, parsnip potato puree, cabernet reduction with local blue lake and yellow wax bean, baby tomato, fleur de sel.
In addition to the food, everyone had chosen various drinks to accompany their meal. I started with a Washington Apple martini with a cherry, which is currently my favorite drink. A few of the other people tried it and liked it as well. To accompany my entree, I ordered a Bloody Mary, which I like and had on my last brunch visit to Club 33. I liked this version of the drink ok, but I did notice that it had much less tomato flavoring, was more milder in taste, and was more alcoholic than when I'd had it at brunch. I don't know if it's meant to be different between brunch and dinner or whether it's just a difference between bartenders, but I do prefer a stronger tomato taste as well as the normal spicy kick to the drink. Because it was so much less tomato-y, one of the people at the table agreed to try it, even though she has a general aversion to tomatoes. [The person in question has indicated to me that she feels "general aversion" is much too mild a term to describe her relationship with tomatoes. She feels that "general repulsion" is a more apt description. Duly noted for the record ;) ] Even with the much milder tomato content and flavor, she decidedly did not enjoy her taste of the drink. The husband enjoyed his wine pairings, and others at the table had various other drinks, alcoholic and not, with varying degrees of success.
As we were finishing our entrees, it was past 10:30pm, which is when the second Fantasmic show starts. Some of the people in our group went out on the balcony to see how much of the show they could see. Sometimes, you can get a decent sideways view, but if the trees haven't been greatly pruned back, much of the view is obstructed. They came back to report that there wasn't very much you could see from the balcony, and you couldn't really see the stage at all.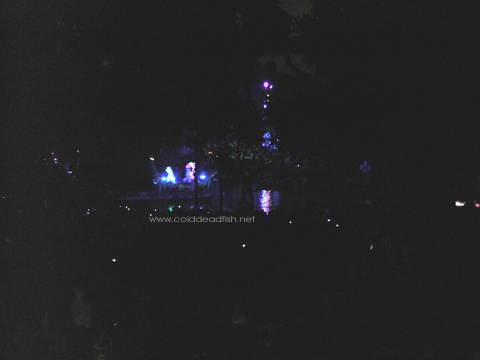 The view of Fantasmic from the Club 33 balcony - the monkeys during the "Jungle Book" segment of the show.
Next, it was time for our cheese course. A couple of our friends had ordered the cheese plate, and the Vintner's included a cheese course. The full cheese plate actually comes with quite a bit of cheese, more than enough to share. Thankfully, the Vintner's offering was a smaller portion of the cheese plate. I enjoyed the cheese options, but unfortunately, one of our friends who'd ordered the full plate wasn't pleased with the cheeses included.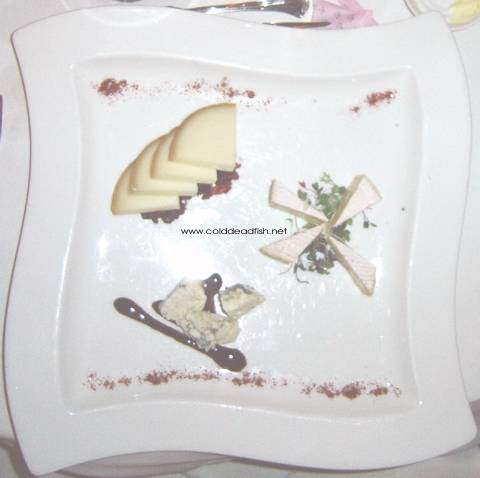 From the regular menu - regional cheese tasting.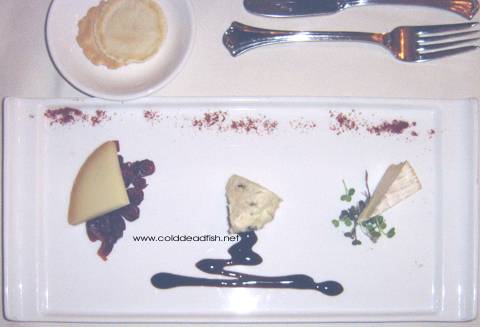 The Vintner's menu portion of the cheese course.
It was then time for dessert. The Vintner's menu included dessert, so our server came over and recited the other dessert options to the rest of our friends. Everyone made their choices, which were brought to the table shortly thereafter.
The Vintner's menu dessert was a chestnut and cranberry yule log. A few of us noted that it seemed to be an odd time of year to have a "yule log", and it was a little weirder for me only because I'm used to yule logs being generally chocolate based, which this was not. I did generally like the dessert, which had a nice fruity flavor.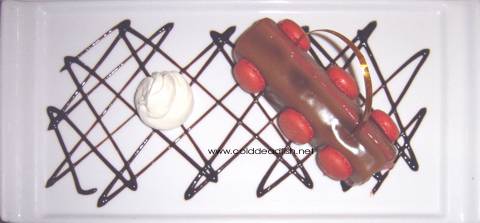 The Vintner's menu dessert - chestnut and cranberry yule log, chocolate hazelnut.
The wine pairing was a moscato d'asti, which I love, so I stole a taste of the husband's glass. Yum.
One of the choices on the regular dessert menu was creme brulee, which some of our friends had.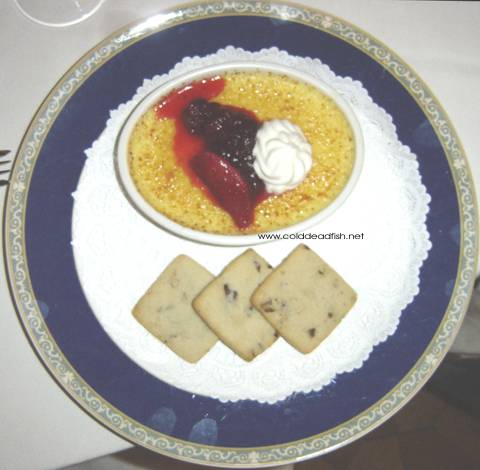 From the regular dessert menu - creme brulee.
At the end of our meal, after we'd asked for the check, our server also brought chocolates for everyone.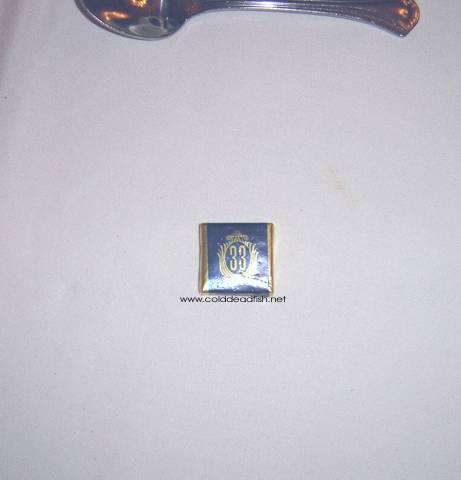 Club 33 chocolates to end the meal.
Overall, it was a lovely meal. The company was stellar, the food was good, and the service was very good. There were one or two occasions when I recall that someone had to ask for a refill, but on many other occasions, they came by to check on and provide refills on their own. They were fairly attentive about removing plates, and they kept the bread baskets on the table refilled as well. (I think I ended up having one piece of bread because there was too much else to eat. I remember liking it a lot - it was bread with some kind of nuts in it.)
The Vintner's menu was $85, with an additional $50 to add the wine pairing. The appetizers, entrees, cheese course and desserts were all separately priced, but the restaurant does require a minimum food charge of $76 per person, which is equivalent to the current price of a one-day, one-park adult ticket. A meal at Club 33 includes the price of a one-day park hopper, which we didn't need since we have annual passes.
After finishing our dessert and settling out our bill, we made a quick stop at the merchandise cabinet as a couple of friends had an item they wanted. I perused everything but didn't see anything I wanted this time. By the time we were done and went downstairs, it was 12:30am. We hadn't planned on being there quite that long, but it had been a leisurely meal with multiple courses, and we all commented that it didn't seem like we'd been there for more than 3 hours. Disneyland had closed at midnight, so one of the cast members escorted us to Main Street, which customarily remains open for an additional hour after posted park closing.
We walked down Main Street and outside the turnstiles, bid farewell to each other after a wonderful evening.
For the review of our brunch visit in April 2010, please click here.
Back to DLR Restaurant Reviews.
Back to home.