Easter brunch at the Disneyland Resort - March 31, 2002
Easter brunch at the PCH Grill in the now Paradise Pier Hotel (formerly the Disneyland Pacific Hotel) has been a tradition for my husband and me and a group of friends for several years now. The food choices aren't as varied and lavish as those offered at the buffets held at the Disneyland Hotel's main ballroom, but the offerings are very good and the intimacy of the location allows for greater character interaction. Typically, you can expect to see Minnie, Daisy and Pluto. Donald has been there in years past. Other characters may rotate from year to year.
This year, we had a reservation for 11:30am. I had made the original reservation a couple weeks prior but had to adjust it a few times to account for additional guests. Sunday morning, our final count was 10, all adults. I've been to a number of character meals, and only once has there been a small child in attendance. The other times, it's been all adults, and we've had great luck in having good interaction with the various characters. Rather than simply coming over and merely making an appearance, they are usually very active and interact with us.
Very close to 11:30, I checked in at the podium. The cast member there took my name down and told me that it would be a few minutes after 11:30 before we could be seated, and I said that was fine. We waited in the lobby, which was very crowded, unusually so. In years past, the restaurant has been perhaps three-quarters full during Easter brunch, but this year, the wait time at 11:30am for parties without reservations was one hour. The lobby was even more crowded because they were holding an Easter Egg hunt for the children of hotel guests in the lobby area itself, in the sunken lounge where the large-screen TV is situated.
We were seated at about 11:45, at a row of tables towards the back of the main room, against the wall. Once we were seated, our server came over to take our drink orders (no champagne though), and then we took turns getting our food.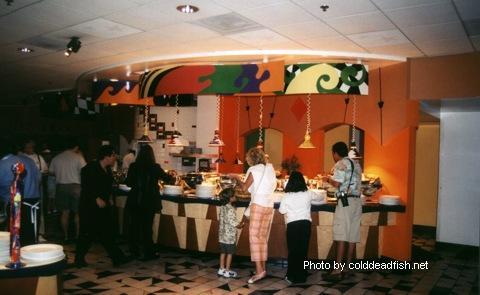 Guests helping themselves to breakfast items.
Following are the food items that were offered (apologies if I forget something).
eggs benedict
bacon
sausage
scrambled eggs
made-to-order omelette bar (with an extensive selection of meats and vegetables to choose from to add to an omelette; they also have whole eggs in case you want sunny side up, or as I prefer, over easy)
Mickey-shaped waffles
french toast
cereal bar (choice of three types of cereal)
wedge-cut potatoes with bell peppers and onions
mashed potatoes
vegetable mix (baby broccoli florets and carrots)
smoked salmon with tomatoes, red onion and capers
garden salad
Chinese chicken salad
carving station featuring ham and roast beef
rice pilaf
broiled salmon
broiled chicken
chicken nuggets
macaroni and cheese
Mickey-shaped hash brown nuggets
various rolls and breads (You can also request toast directly from the server.)
an extensive selection of desserts, including oranges, apples, pies, cakes, pastries and other goodies
| | |
| --- | --- |
| | |
| Omelette bar station is on the left and cereal station is centered. | Some of the breakfast foods offered. |
| | |
| --- | --- |
| | |
| Bread offered at brunch. Notice the rabbit ice sculpture decoration at the back of the table. | Hand-carved ham and roast beef. |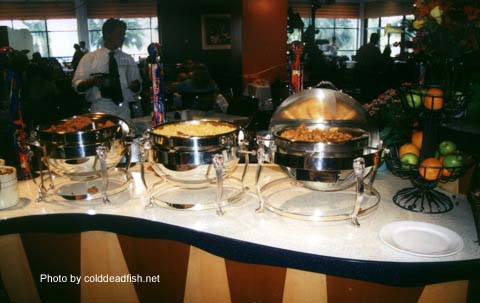 Chicken nuggets, macaroni and cheese and Mickey hash brown nuggets.
Some of the dessert offerings.

More dessert offerings, including a cake in the shape

of a bunny.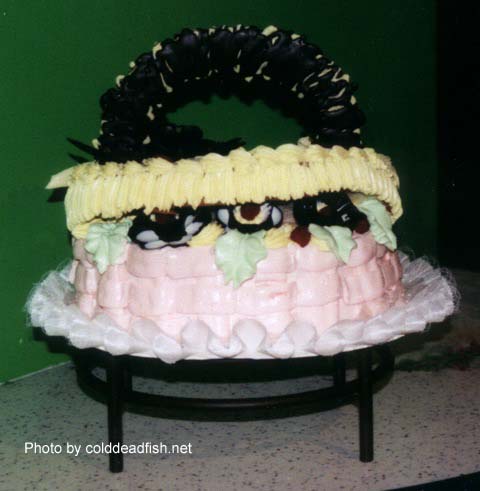 Yet more dessert - a cake in the shape of an Easter basket.
Spun sugar made into elaborate sculptures - a swan,

a basket and decorations; the yellow bowls are made

of sugar as well and are edible.

A close-up of the swan's head, complete with hat.
The first time we attended the brunch a few years ago, the offerings included sushi (nothing fancy - just tuna and salmon but still very good), presumably from the neighboring Japanese restaurant called Yamabuki's, as well as peeled and chilled cocktail shrimp, but those offerings were discontinued two years ago. Last year, the omelette bar was a bit disappointing as there were no vegetables offered, so we were happy to see that they were brought back this year.
Throughout the meal, various characters make their way to each table, greeting and playing with the guests.
Pluto acting put-upon as a resting spot for a little Thumper.

Visiting with guests are Daisy, Pluto and Thumper

(behind Pluto).
Daisy was our first visitor of the day, but we mostly just waved at her as we were all enjoying our food and conversation. Max (Goofy's son) was our next visitor some time later, and he was a lot of fun. A few people in our group were wearing Easter-themed headbands, and Max had fun with one particular bunny-adorned one.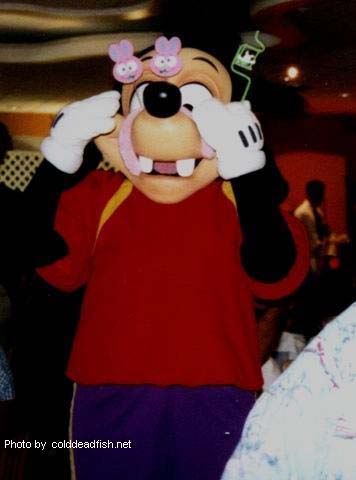 Max with borrowed headgear (nosegear?) and an Easter toy
One of the people at our brunch also brought Easter-themed toys and treats, and Max amused himself by playing with some of those, including at one point trying to eat a toy car. I believe Max also later commandeered one of our seats and eventually relinquished the seat back to its owner. Minnie joined us while Max was still at the table, and Max had a bit of fun with Minnie. A friend who had been at the brunch last year but who had unfortunately been unable to attend this year's brunch had taken some rather amusing pictures of some of the characters last year. When we showed Max pictures of Minnie's antics the previous year, Max was extremely amused at Minnie's expense. Pluto, adorned with bunny ears of his own, made his way to us later in the meal. Daisy was the next to stop by after that and was being playful but was taken aback when we showed her pictures of Donald's behaviour from the prior year. Her reaction was priceless and sent our table into a fit of laughter. Thumper was not part of the festivities in years past and only made a brief appearance last year, but he was out and about this year, sporting a festive Easter hat. I have a Thumper plush, purchased a few years ago which, when the button on one of this paws is pushed, causes Thumper to utter one of three phrases, followed by him thumping his left foot. It was fun to show big Thumper my little Thumper and have big Thumper react with glee when little Thumper spoke and thumped.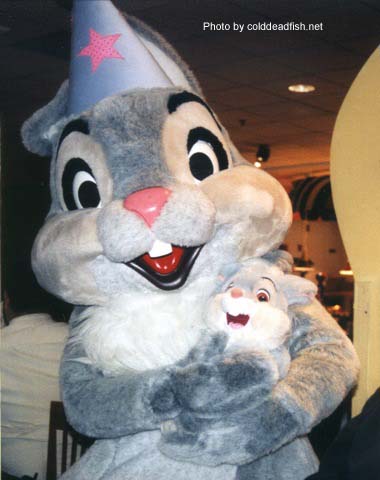 Big Thumper and little Thumper.
Our last visitor of the day, Pluto on a return trip, was not as enamoured of little Thumper, and poor little Thumper took some abuse at the hands...paws of Pluto, as is evident in the picture below.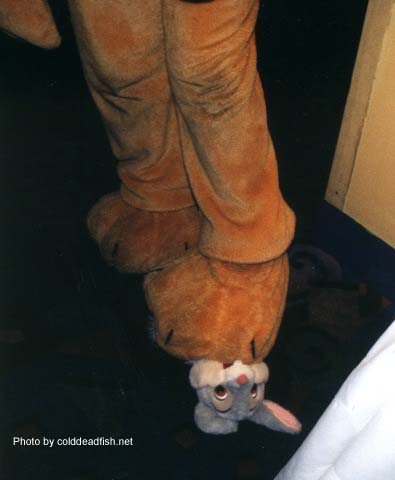 Pluto re-enacting "Bambi Meets Godzilla" with little Thumper.
Pluto had a lot of fun playing with little Thumper and we had an enormous amount of fun watching.
The service was good. Our server was very good about re-filling our drinks and taking away empty plates.
The cost of brunch this year was $35 for adults and $13.50 for children 3-11. Annual passholder and cast member discounts do apply.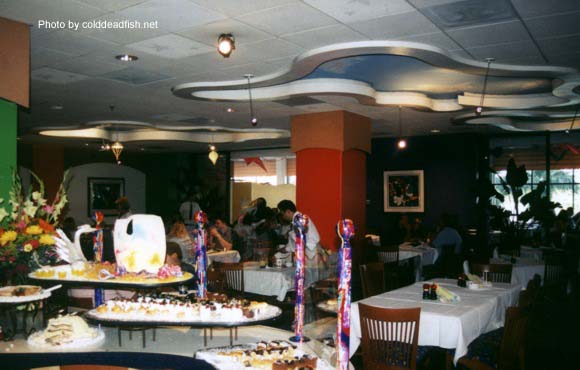 A last glance.
To read about the 2003 Easter Brunch at PCH Grill, please click here.