PCH Grill - Easter Brunch - April 20, 2003
Easter Brunch at the PCH Grill in the Paradise Pier Hotel has been a tradition for us and a group of friends for several years now. The menu offerings have changed a bit over the years, but we've always enjoyed our brunches there. A couple of years ago, some changes were made to the omelet bar that we weren't particularly pleased about (an omelet bar that doesn't offer any vegetable choices?), but the following year, we were happy to discover that the omelet bar selections had been restored. In addition to the good menu offerings, we've especially enjoyed the wonderful character interaction. With the relatively smaller restaurant, the characters are able to spend more time with the guests, and for anyone who loves meeting characters, Easter brunch has always been a real treat.
This year, as in previous years, I made a reservation for our group. I was a bit concerned because the adult price this year was $25 when the price had been $35 last year. Disney isn't known for just lowering prices without reason, so we wondered among ourselves what changes there might be to justify the lower price.
As usual, we parked at the Paradise Pier Hotel parking structure (the hotel is so far from the two parks and Downtown Disney, and with the discontinuation in late 2001 of the omnibusses, it's a fairly long walk to the hotel). We had arrived at PCH Grill about half an hour before our 12:15pm reservation as we had to make an adjustment in the reservation. One of our friends was able to make it at the last minute, but when I tried to adjust the reservation over the phone the day before, I was told that they couldn't change the reservation at that point but that I just needed to let them know about our extra person when we checked in, and we might have to wait a few minutes more. When I checked in and told the CM that we had one more than the original reservation, she said that was fine. She said that it would take a few minutes, and I told her that it wasn't a problem, that we were just there early, so we were fine with waiting for our 12:15 time. She gave me a pager, so we went to sit down in the lounge, with our friends arriving shortly after us. At almost precisely 12:15, the pager went off, which startled us a bit as it was the talking variety, something I hadn't encountered before. We went up to the podium and were then taken to our table, which was at the far left of the restaurant, close to the kitchen entrance.
Once we were settled, the waiter came by to take our drink orders, and most of our group went to browse the food offerings. I stayed behind at the table to watch everyone's belongings. A few people came back shortly to relay their discovery of the reason for the price decrease - there was no longer an omelet bar available nor was there a carving station. A few of our group particularly enjoy omelet bars so its removal was rather disappointing. Once people had started coming back to the table with their first plates, I got up to get my food as well.
I've been to various buffets in different kinds of restaurants, sometimes for a special occasion and sometimes just as a weekend brunch. This is the first time that I can recall holding my first plate of the meal, putting on a couple of items, which didn't quite fill half my plate, and then wandering around, not really sure what else I wanted. Not only had the omelet bar and carving stations been eliminated, but there were about 6 or 7 fewer offerings than the previous year. At the station where the omelet bar was, the chefs were instead making fresh pizzas, pepperoni and cheese. Pizza is good, but not nearly as interesting as an omelet bar. The sparse brunch offerings were very disappointing, doubly so since it was a Disney brunch, triply so because it was a Disney Easter brunch. One of the people in our group came back with a slice of pizza and as we continued to discuss the absence of the carving stations, she quipped, "It's *carved* pizza." To add insult to injury, we were even more disappointed to discover that the scrambled eggs were the powdered version, not made from real eggs, and yes, it was very obvious in the way they tasted. As one person said, "There are no words to describe it."
Here is the list of menu items offered:
scrambled eggs
scalloped potatoes
sausage
bacon
French toast
rice
salmon
rotisserie chicken
fresh-made pizza (pepperoni and cheese)
pasta salad
Chinese chicken salad
fruit (watermelon, cantaloupe, honeydew, grapes, pineapple, strawberry)
danishes
breads
Mickey-shaped chicken nuggets
dinosaur-shaped hash brown nuggets
corn dogs
macaroni and cheese
pasta
pastry desserts
Mickey-shaped puffed rice treats
cookies
tiramisu
jello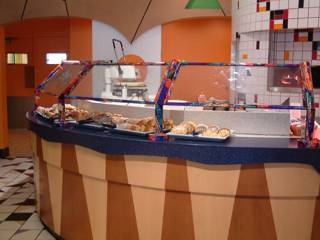 Breads and pastries offered. The pizza making station is behind the glass.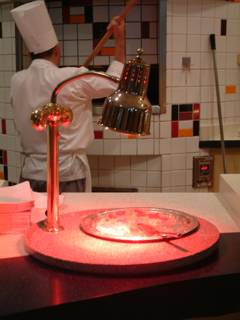 Fresh pizza.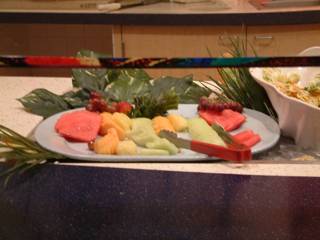 Fresh fruit selections.
While I rather enjoyed the scalloped potatoes, I found that I preferred the items offered in the children's section more than anything else. I tried a little bit of everything and liked the pasta and macaroni and cheese, but my favorite entree of all were the corn dogs. They were very tasty. As brunch continued, I discovered that others of our group were partial to the children's menu as well, with some people enjoying the chicken nuggets and others enjoying the hash brown nuggets. We agreed that it was definitely a poor reflection of the menu items that our favorites were from the children's menu.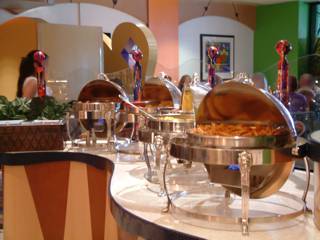 Menu items from the children's section.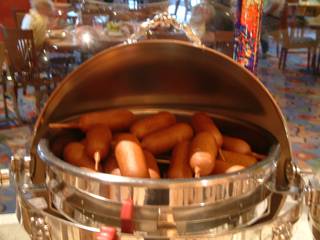 Corn dogs - the best of the brunch.
One thing that didn't change about the brunch was their wonderful dessert offerings. There was a vast array of items available, and the decor and presentation were as beautiful as always.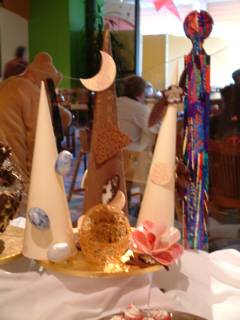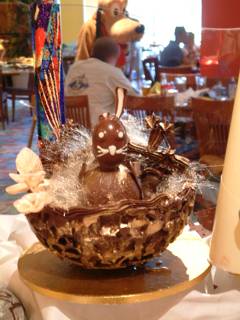 Cute and tasty too.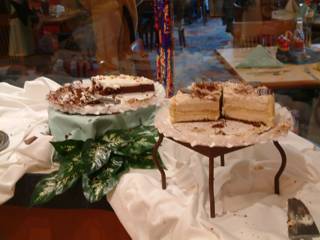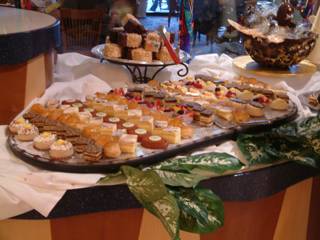 Some of the dessert offerings.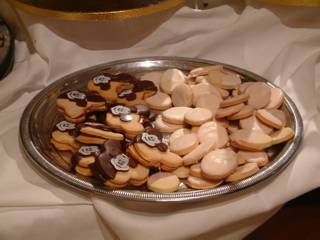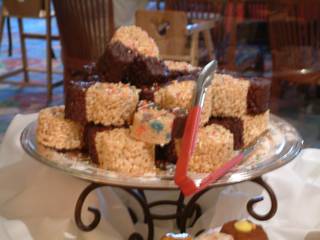 More dessert choices - cookies and puffed rice treats.
While the food offerings are of course important, almost as important are the experiences we've had with various characters at Easter brunch. I was especially pleased last year because Thumper was available to greet and interact with guests - how appropriate for Easter. On previous visits when menu changes had been made that weren't popular with our group, we were still enticed to come back the following year because of how much fun the characters were. The characters were always a joy to interact with, and they seemed to appreciate our contributions to the fun as well. Our visit this time seemed to echo prior visits as not more than 5 minutes after we'd been seated, Minnie came over to greet us and we had a great time "talking" to her about various topics, including her sweetheart Mickey.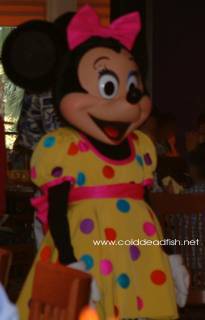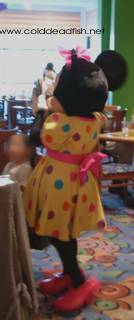 Minnie posing for a picture and greeting guests.
Sadly, though, our experience with Minnie would prove to be the exception. We saw Pluto circulating in the restaurant, but he just came over at one point, waved hi, and left. We saw Max (Goofy's son) across the room, but he never came by to our table, and we didn't see him again. A character meal without very many characters - imagine that.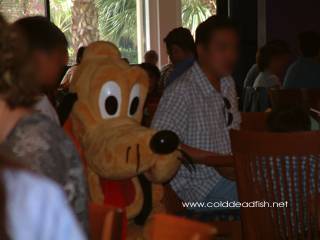 Pluto visiting with a group of diners.
We still had a very enjoyable brunch, but that was mostly attributable to the group of people at our table. We enjoyed spending time together and made wry remarks about our disappointment with the meal itself. At one point, our waiter came over to see how we were doing, and I made some cryptic comment that I can't remember. When he inquired further, I made the comment that we were disappointed that the omelet bar was no longer being offered. He said that if we wanted omelets, he could arrange for some to be made, that we just needed to ask. We declined his offer. While it was a nice gesture, it was really missing the point. It wasn't a matter of getting omelets made only for our group - it was a matter that the omelets weren't being offered in the general menu.
Considering how many years we've enjoyed Easter brunch at the PCH Grill, it was actually sad to see that the menu offerings and character availability had deteriorated so much that we probably won't be returning. As it is, most of us are not fond of PCH Grill, and the Easter brunch served as our once-a-year visit to that restaurant. At this point, even that singular annual visit is a thing of the past. Unless we know for sure that the menu items are being restored to what we had previously experienced, I highly doubt that any of us will return for Easter brunch next year. I'm a big fan of Catal Restaurant in Downtown Disney, and this year, they offered a very tempting Easter menu but we didn't want to break our Easter tradition. Next year will probably find us enjoying a nice Easter brunch at Catal instead.
To read about the 2002 Easter Brunch at PCH Grill, please click here.
Back to DLR Restaurant Reviews.
Back to home.