Olszewski Disneyland miniatures - May 9, 2009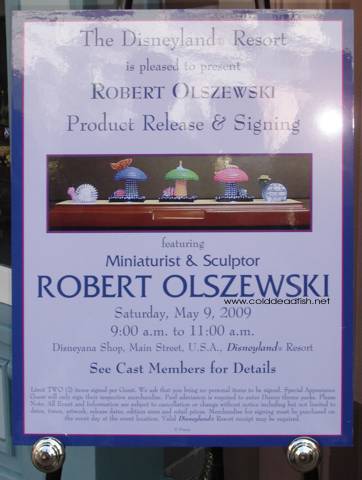 DISCLAIMER: Those who regularly read these updates will know that they are usually chock full of pictures of upcoming releases and prototypes and such. Well, if you're looking for pictures, you've seen the one picture included in this update. At Bob's signing table, on display was the Haunted Mansion Gallery of Light being released on September 9, the four Haunted Mansion stretching portrait pokitpals (one of which has already been released and the other three is expected to be available shortly), the Minnie pokitpal (expected to be available shortly), and the Monorail nostalgia piece being released on July 17. Pictures of all of those have already been published in a previous update. Travis had brought some things with him to display, but the Disney folks forgot to order a table for the front of Disneyana, so there was nowhere for him to display them. (Seriously, they've had how many releases in the past, and they forgot this time that Travis needs a table?) He didn't even need a big table because he didn't bring the Main Street platform. He just needed the small circular table since he had brought the black box set-up to show the five new Gallery of Light pieces that he had also brought. However, it turned out that all the pieces he brought were things we had already seen at the NFFC show and sale in January, so there wasn't anything new for us to take pictures of anyway. If you missed the January report, here's the link that has pictures of the five Gallery of Light pieces as well as the new Heirloom Boxes to be released. Otherwise, the rest of this update is just me writing. You've been warned.
We got through the front turnstiles right at opening, and there was already a line at Disneyana from the people who had gotten in through Magic Morning, which allows entrance into the park an hour before the regular opening time. We got in line just after the break to allow people access to the lockers half-way down Main Street. They started letting people into Disneyana shortly after that, so the line moved pretty steadily. I had been surprised that the online presales of the Electrical Parade pieces being released this day hadn't sold out as quickly as previous releases, but they did eventually sell out of their on-line allotment. I guess many people had just decided to visit the park instead. Shortly after park opening at 8am, the line for purchasing ran from Disneyana up Main Street to about where the clock on the street is, almost to the porch. When I would periodically look to see where the line was, it remained pretty steady at its end point, even as the line moved forward, so that meant people were still joining the line regularly.
There were only two new releases this day, the second set of Electrical Parade floats and the Splash Mountain Gallery of Light, so the whole process moved rather smoothly. We were let in to make our purchases (which took a bit longer because our particular register was having problems processing credit cards, but the CM we had was apologetic and very nice throughout, so we didn't mind), and then we joined the line to pick up the merchandise. The sets of floats were unboxed and sitting on the table, ready to be inspected, as were the Gallery of Light pieces, and once you chose the pieces you wanted, they were then boxed for you. The parade set took a bit more work to re-box because each of the floats had to be individually wrapped and replaced in its compartment and the base had to be put away as well. The first day release plaques were already in the boxes, inside the plastic envelope containing the documentation, so the pre-insertion of the plaquest was nice to ensure that it didn't take more time to put the plaque in or for someone to accidentally forget to put one in. As we were leaving with our purchases, I saw Bob getting set up at his table, so I said hello to him and then went outside to talk to Travis.
And that's when I noticed that there was no table set out. And then I remembered seeing Travis taking the stuff he'd brought with him back into the store and thinking that was odd at the time. As the husband stood in line to have Bob sign our Splash Mountain piece, I waited to see if maybe they'd bring a table out, but that seemed not to be happening. I thought maybe Travis was inside with Bob, so as the husband got closer to the front of the line, I figured I'd go in with him so that I could talk to Travis. Then, Travis came outside, and he was talking to people, without the things he'd brought, but at least that gave me an opportunity to speak to him. Note that I didn't have as much time as usual, so there were some things I didn't have a chance to ask him about or confirm. I wasn't able to get any information about the next WDW release, and I was not able to confirm the re-release next month of some Main Street and attraction pieces nor the planned release later this month of new heirloom boxes, so that is reflected in the updated schedule.
The next piece in the Main Street collection will be the Mark I Monorail, which will be released on July 17, 2009. The price is tentatively set at $95. With regard to the extra set of stanchions that can be placed at the front of the platform, Olszewski Studios is moving forward with having those produced, and they will be sold directly from the Studios website, probably available in August 2009. Make sure you're signed up for their mailing list so that when it goes on sale on the website, you'll be notified.
The next attraction release is still the combined Alice in Wonderland/Mr. Toad's Wild Ride piece. They're working on the design of the piece now, so maybe there will be something to see in July. The price is expected to be in the range of $295.
The King Arthur Carrousel piece which had been tentatively scheduled for release in May 2010 has been put on hold. Because they will be recreating all 64 individual horses, the cost of the piece will be higher than normal, expected to be in the range of $500. There are concerns that because of the current economic situation, there won't be enough people willing to pay that price for one piece, so they're pushing back the release (maybe 2011) until they think the economy can better accommodate that price point.
Instead of the Carrousel, the Snow White attraction which had been scheduled for November of 2010 has been moved up to the May slot. That piece is expected to have inserts but no decision has been made yet about what scenes will be depicted.
The nostalgia piece for release on July 17, 2010 is still expected to be the House of the Future.
The attraction release planned for November 2010 is Pinocchio, which will also have inserts. There's been no decision made yet whether the piece will simply be the attraction itself or whether it will include the adjacent buildings, like Gepetto's (which is currently not in use by the public) or Village Haus. The layout of Fantasyland has not yet been finalized, which will be done as the Snow White piece is being worked on. Once they've figured out the blueprint of Fantasyland, they'll have a better idea of how Pinocchio will fit in it. To me, it would make sense to release Pinocchio alone, and then have a separate piece with Gepetto's and Village Haus. Or, since Village Haus is a restaurant that takes a fair amount of space, if they need more room in the Pinocchio piece to accommodate details and/or inserts, they could attach Gepetto's to the Pinocchio attraction piece and then release Village Haus on its own.
And, to the best news that I heard all day, Fantasyland is pretty much a go, so they are working on Storybookland/Casey Junior, for release in 2011 or 2012. Yeah, it's a long time from now, but at least I know that in the near future, I'll have my holy grail piece. Since they can't possibly recreate the entire attraction, they'll have to figure out how to represent it in the amount of space they have.
With regard to the layout of Fantasyland, there are plans to create a platform for Fantasyland that would fit right up against the Main Street platform. That base is being planned for release sometime in 2011 and would be sold through the Studios website.
Plans for the Matterhorn are still on hold as they try to figure out how to alleviate the problems associated with the heaviness of the piece as well as the related extra cost. A question was also asked about subsequent pieces depicting more of the Jungle Cruise, but any additional pieces of that attraction would not be addressed unless and until they're working on Adventureland/New Orleans Square.
Olszewski Studios is working on a shadow box light display for the inserts from Peter Pan, and that is expected to be available in summer or fall 2009 only through the Studios website.
Other attractions that Disney has requested Olszewski Studios to work on is Autopia (which would be done like Jungle Cruise, showing the entrance and then highlights from the attraction) and it's a small world. They are also looking to do an overlay accessory pack to convert the Haunted Mansion into its Haunted Mansion Holiday version. Instead of having to buy another whole piece, collectors would be able to just buy an accessory pack with pieces they can put on the Haunted Mansion that they already have. As far as scene inserts (which would be terrific), that's been discussed as well, but the problem is that not every Haunted Mansion piece is identical when it comes to the exact size and shape of the inserts. When the pieces are packaged, there's a sort of mix-and-match done, to find the right insert to fit the right piece, and slight differences could mean that an insert which fits one Haunted Mansion might not fit another Haunted Mansion. That would be the same problem for any separately created inserts. They have discussed perhaps doing an insert scene or two but with the intention that it's for use in the shadow box light display or some other similar device. Along the same lines, Olszewski Studios is again working on a Christmas overlay accessory pack to transform Main Street into its Christmas time look. There is also talk about having accessories to match the Halloweentime decorations as well.
Disney has also asked Olszewski Studios to make a slight change to future releases of Sleeping Beauty Castle, to match the changes in color to the castle as it exists now. Some of us joked that we wouldn't be purchasing another castle because of this change, even though we did buy another Mark Twain when it was re-released with the normal coloring rather than the original 50th anniversary coloring, and we actually found one other collector who bought the re-colored Twain as well.
The subsequent sets of Electrical Parade floats is still planned as the March release in successive years.
Olszewski Studios had previously planned to do a mechanical road that would enable the Electrical Parade floats (and any other parade floats that might come down the line) to travel up and down Main Street on the platform. Complications arose, and those plans were scrapped, but collector Bruce Richards, who documents his talents on his website of how he has motorized the Astro Orbiter, Mad Tea Party and Dumbo and already plans to motorize the Carrousel, is actually working on a mechanical road device to pull the floats, which would be really cool. He is also offering the service of motorizing pieces for other collectors, so if you're interested in that, go to his website to contact him to arrange for shipping, payment and other details.
Olszewski Studios has tentative plans to put in another order for Main Street platforms in fall of this year, so if you don't have one yet and want one, make sure you're on their waiting list. I'm sure more announcements will be sent through their mailing list, but you can also go to their website and submit an email asking to be put on the platform waiting list. Until the order is put in, a price won't be known, but the price is expected to be in the $475 range. There may also be another order put in to have another run of the plexiglass covers made, which would be less expensive if done as a larger run rather than just a one-off production. If you're interested in that, you can also email Olszewski Studios to see if there's a wait list to be added to at this time and make sure to stay tuned to any newsletter announcements from the Studio.
For the Gallery of Light line, the next four pieces ("Peter Pan", "Snow White", "Jungle Book" and "Mary Poppins") have already been released to retail outlets, and the Disneyland Resort should have their product out on shelves in a couple of weeks. The Winnie the Pooh Gallery of Light has been moved from May to July for release. The Haunted Mansion hitchhiking ghosts piece is available for order for those attending the 40th anniversary event, but the pieces are an open edition and will also be generally available after the event.
The next set of pokitpals (Minnie, Dumbo, Space Mountain, and the three remaining Haunted Mansion stretching portraits) are expected to be available at the Disneyland Resort in about two weeks. The Haunted Mansion plaque pokitpal is available for order for those attending the 40th anniversary event, but the piece is an open edition and will also be generally available after the event. Olszewski Studios is also hoping to release pokitpals themed to the film "Cars", but they have not yet been able to obtain permission from Pixar, which is being oddly unresponsive. I expect those pokitpals would be quite popular, so hopefully, an approval from Pixar is soon forthcoming.
On a closing note, updates to this site are only posted following releases of Main Street and attraction pieces and the January and July NFFC show and sale if there's anything new to mention. Updates go up as soon as possible following the release date, but circumstances sometimes delay publishing of an update. If you would like to be notified when an update is posted, please send an email to feedback at colddeadfish.net and include "update notification" in the subject line, and when new updates are posted, you will be notified by email.
See you in July. And happy birthday to Travis, and happy belated birthday to Bob!
Back to Olszewski Disneyland miniatures main page.
Back to home.