Olszewski Disneyland miniatures - September 13, 2014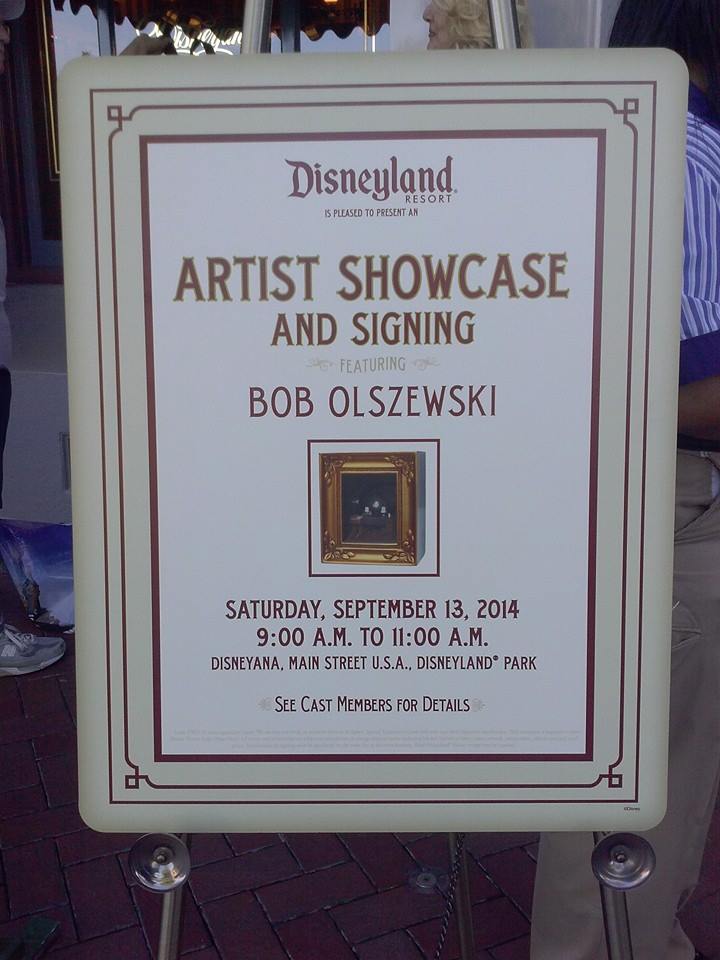 It's been a long time since we've had an Olszewski event to attend! When we got to Disneyana, there were already two lines formed, one to purchase the Madame Leota Gallery of Light, and one to wait to meet Bob Olszewski and have him sign the product. Since there was only one Olszewski item being released, it was relatively easy. They had the Gallery of Light pieces out and unboxed, ready to be examined and tested. All of the ones that were out were pre-signed. You could choose one of those or choose one of the unsigned ones that they would bring in from elsewhere in the store. You could then wait in line to have Bob sign it. If you chose one of the pre-signed ones, then Bob could just write the date.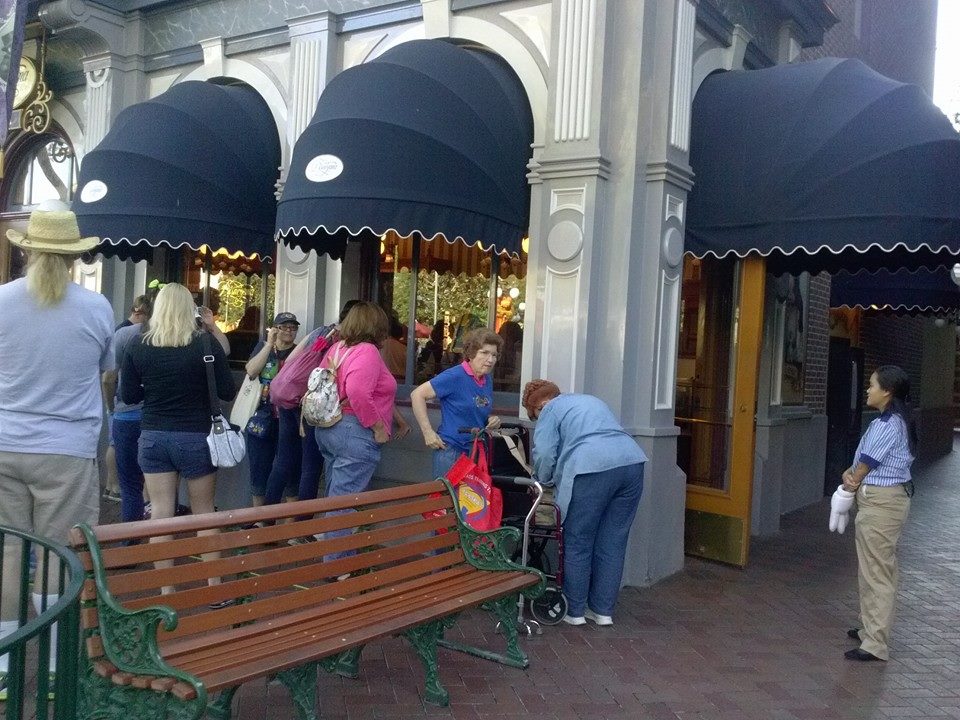 A line of collectors waiting to purchase the product.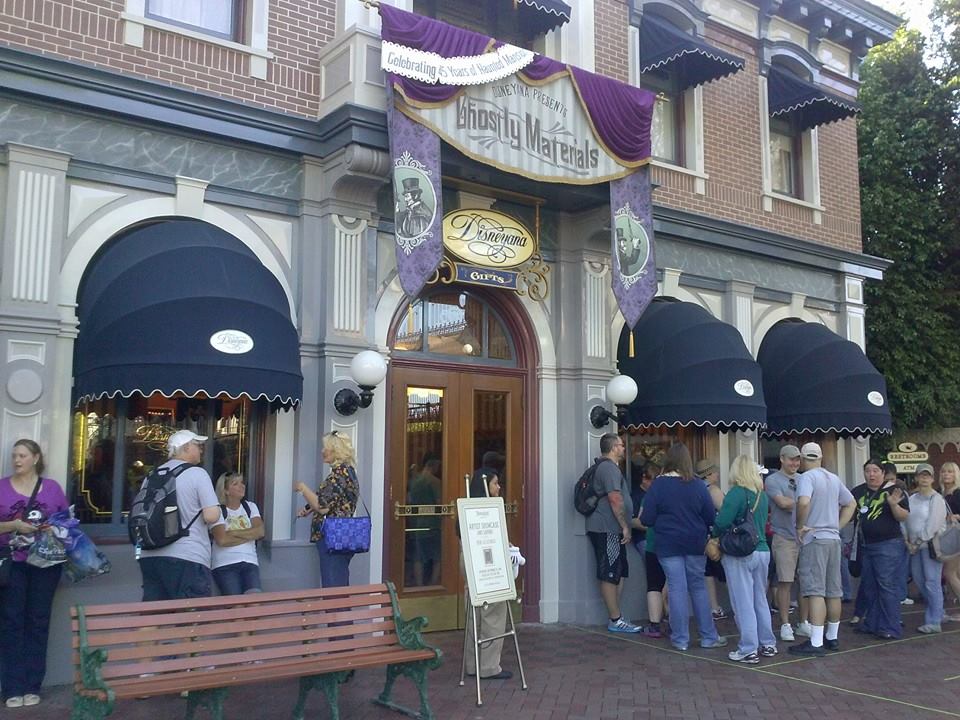 The line to purchase on the right, and the line to see Bob on the left.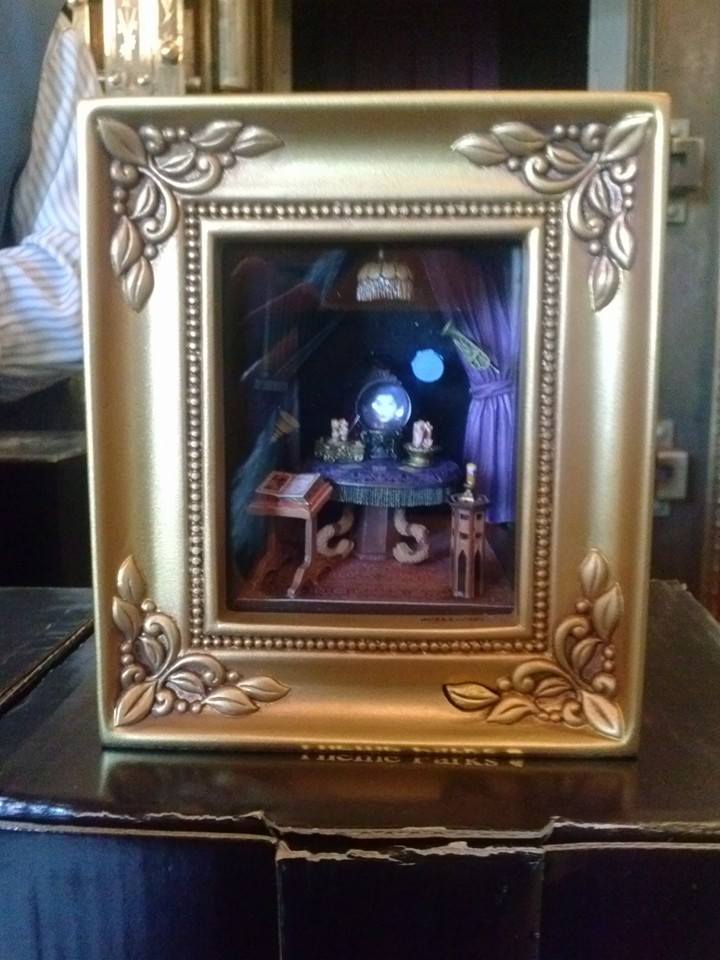 Madame Leota Gallery of Light by Bob Olszewski.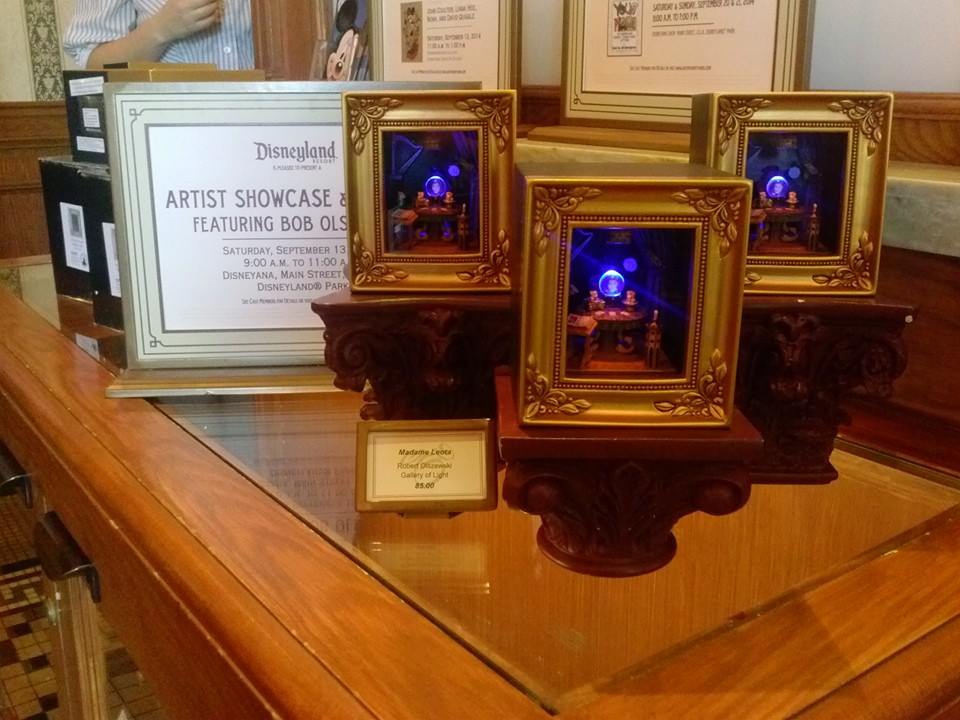 A display of Madame Leota Gallery of Light pieces.
After making our purchases, we got in line to see Bob. The line wasn't moving too quickly, but we figured that meant Bob was actually able to talk to each collector, which he doesn't always get to do since they like to keep the line moving. We did notice that many of the people in line that morning were not people we normally recognized from Olszewski events, so we figured they were more likely Haunted Mansion fans drawn to Bob's Madame Leota piece.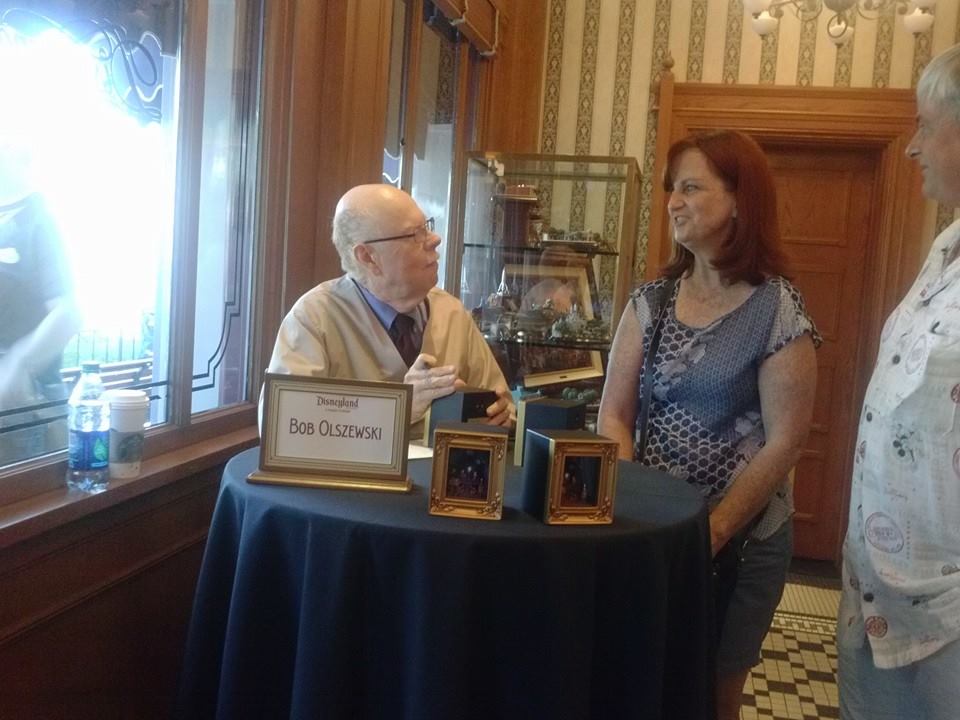 Bob talking to a couple of collectors.
Because of where they had Bob situated for his meet-and-greet/signing, the line to see him actually went right past him on the other side of the window.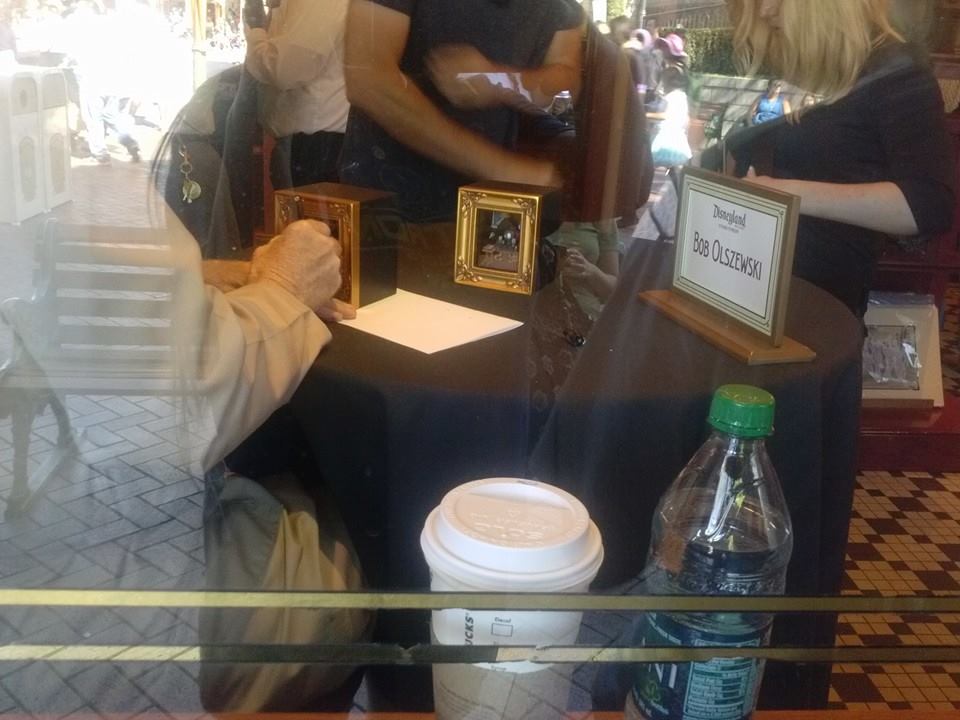 Bob steadying his hand to sign his tiny signature.
Once we got inside, Bob signed our pieces, and we talked to him for a bit. While we very much enjoyed seeing and talking to Bob, we did miss talking to Travis.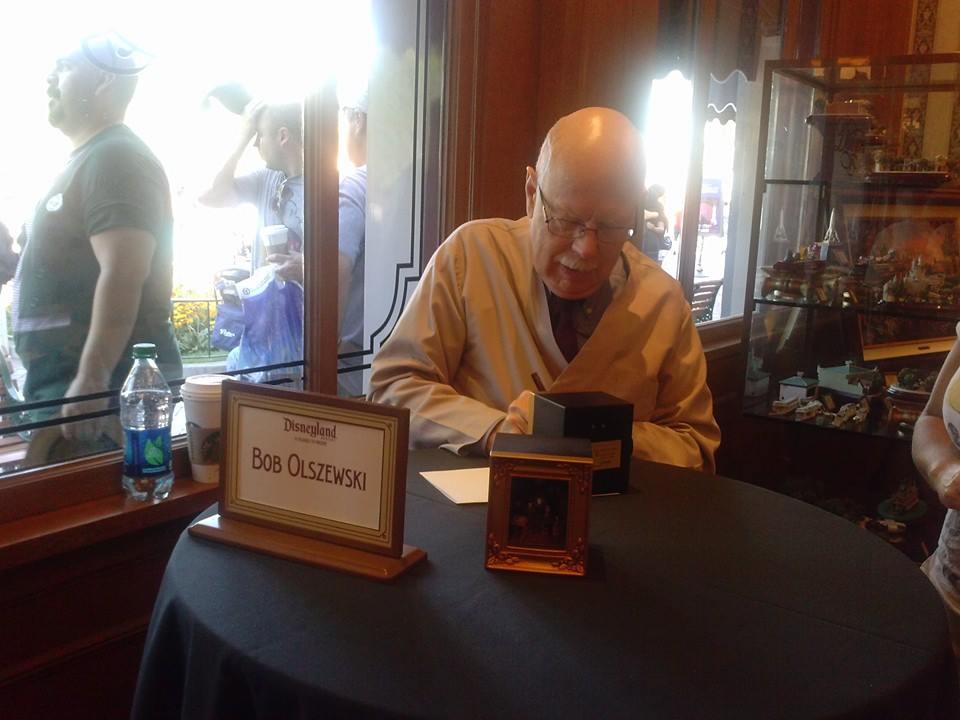 Bob signing one of our Madame Leota pieces.
The major news with regard to the Olszewski miniatures collection is that Disney has committed to finishing Fantasyland at Disneyland. That means that Storybook and Carrousel will definitely be coming out, so it's just a matter of timing. Storybook will likely be ready first, and I'm hoping it will be out sometime next year.
For those collectors who are still waiting to complete their Main Street set, Disneyland has already started re-issuing some of the Main Street buildings, and they will continue to do so with additional buildings.
Some collectors have been asking about the Fantasyland platform since they weren't able to purchase one during the first run. Any additional runs of the Fantasyland platform would be done by Olszewski Studios, not Disney. The main problem is that a certain number of platforms have to be made for one shipment, so they need to have a commitment for that many before they can have the platforms made. If you still want a Fantasyland platform, my suggestion would be that you email Olszewski Studios to let them know. If they get enough responses of people who want to purchase a Fantasyland platform, they may be able to arrange another run of them.
One manufacturing note that we were happy to hear about: Bob Olszewski has been using the same manufacturer in Hong Kong for many years, and now, Disney will also be using that manufacturer for Olszewski Studios' future products. That's great news because it's a manufacturer who is already familiar with the nature of the products and Bob's attention to detail on the pieces.
One other note of good news: in conjunction with Disneyland's 60th anniversary next year, Bob Olszewski is working on three new pieces. That could be any combination of miniatures, Gallery of Light pieces, pokitpals or even something else we haven't seen yet. And with the D23 Expo also occurring next year, maybe we can even hope for something to be released at the Expo?
Olszewski collectors have been waiting a long time for news and additional products, and with Storybook and Carrousel and Disneyland's 60th, it sounds like Disney is finally ramping up to continue the Olszewski Studios product lines. Good news indeed! See you soon!
Back to Olszewski Disneyland miniatures main page.
Back to home.