Olszewski Disneyland miniatures - December 13, 2008
We arrived at Disneyland's turnstile gates at our normal time and were let in when the park opened, and we made our way to Disneyana. The purchasing line started at Disneyana and headed toward the castle. We were second in line after the break to let people through to where the lockers are. The line swelled a bit in the first part of the line as others joined the line with people they knew, and the CMs were pretty good about redirecting people who didn't know that the end of the line was not actually at the break but rather, further down. I wasn't sure how many people would turn out for this release of Dumbo. It's hard to tell with attractions that don't already have a large following, like Haunted Mansion and Pirates of the Caribbean do. Disney allowed an online presale for the piece, and in checking the website, I did notice that it didn't sell out until later in the day. Some presales have sold out within hours of the onsale. I'm also not sure how many were available for the online presale. There were quite a number of people who had come to the release. The line initially stretched back to about the China Closet, and more people joined the line throughout the morning. When the event closed at 11am, there were still a few people in line to purchase and meet Bob and have him sign their pieces. The release events usually ran from 9am to noon, but the last couple have stopped at 11am. Or I might be mis-remembering, and I think maybe the sale started at 9am, but Bob was only there from 10am to noon, and now, sales start at park opening, but Bob is there earlier, from 9am to 11am.
We moved up the line and were eventually let into Disneyana to make our purchases. We were only getting the Dumbo piece and not the new "Nightmare Before Christmas" Gallery of Light piece. Quantities of both pieces had been unboxed and were sitting on tables, so as you joined the pickup line, you could pick up and inspect whatever piece you wanted. Once you made your picks, the CM stamped your receipt, and then you joined the line for re-boxing, where they put your piece in an empty box, put in the first day plaque and then bagged everything up. With a number of registers open, two CMs at the inspection stations and three CMs re-boxing, the process ran very smoothly and quickly. I've said before that Disney sometimes seems to have selective amnesia about prior events, so I'm hoping they remember how well this release went and continue to run future releases this way.
When the event ended, they had not yet sold out of the Dumbo pieces. They will continue to be sold as long as there is stock available. If you weren't able to purchase them online and weren't able to make today's event, check with Delivears on Monday to see if they have any left in stock for purchase.
Just as we were about done with getting our purchase bagged, Travis came out and started to set up outside Disneyana. He had new items to show!
The next release is the second set of floats in the Main Street Electrical Parade series. The release was originally scheduled for March 2009 but because of manufacturing arrivals and scheduling, the release will probably be pushed into April. The piece is expected to be the same price as the first set, $125.

The set of floats to be released in 2009.

The floats with their internal lighting.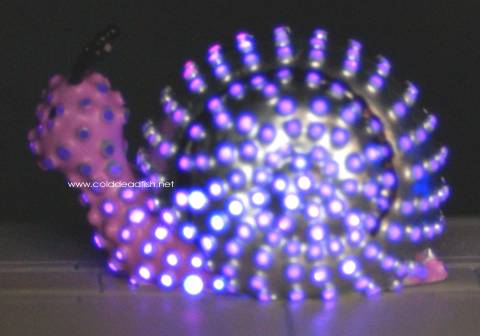 The snail float.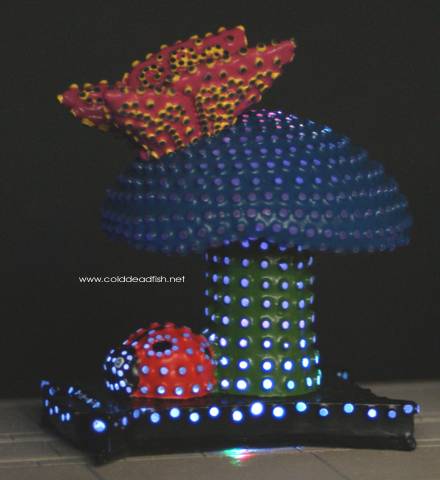 Mushroom float with butterfly and ladybug.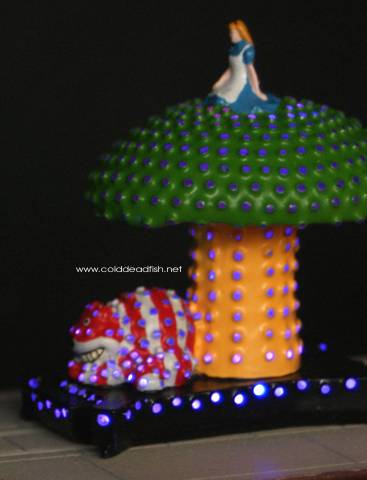 Mushroom float with Alice and Cheshire Cat.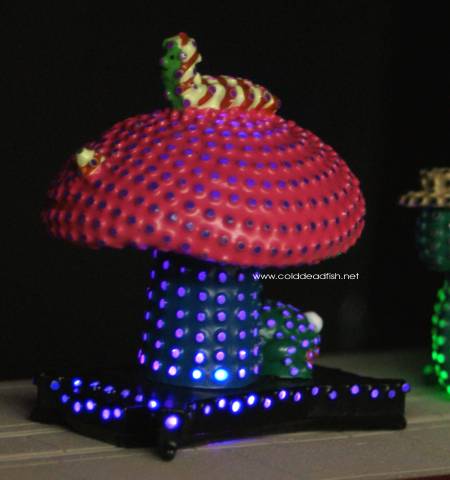 Mushroom float with caterpillar.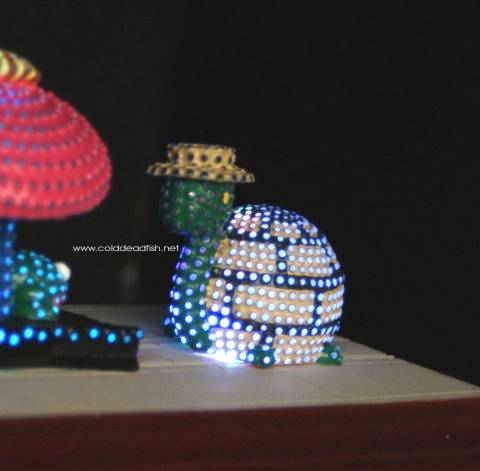 Turtle with hat float.
As with the last release of Electrical Parade floats, I expect this next release will be very crowded, and presuming they will only have a limited number of pieces on hand to sell, I hope they bring back the wristbands that they first implemented (and executed very well) during the Peter Pan release, but which did not work quite as well for the first Electrical Parade release because they didn't just make one pass down the line to hand out wristbands in order of people getting in line. That created a lot of problems last time when people who arrived earlier than others didn't get a piece while others who arrived later did because of line-cutting or happenstance. The wristband system (used widely for pin sales) works perfectly well when executed correctly.
Also scheduled for release on the same day as the next set of floats is a Gallery of Light piece depicting Splash Mountain, with characters from the attraction on a log coming down the flume. It's a really cute piece, and I like the trees in the background. The piece will be $80.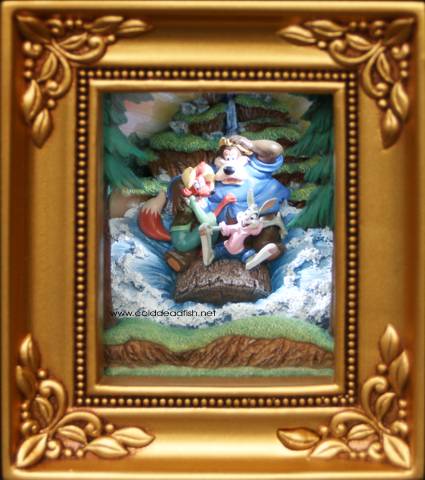 The piece lit with internal lighting only.
The piece lit with flash to show more details.
Travis had another Gallery of Light piece to show, and that's the long-awaited and spectacular-looking piece themed to Haunted Mansion, showing the three hitchhiking ghosts illuminated with a blue light. The piece will be available as part of the Haunted Mansion 40th anniversary event to be held on September 9, 2009, but the piece will not be limited only to the event and will be an open edition piece. The piece will be $70.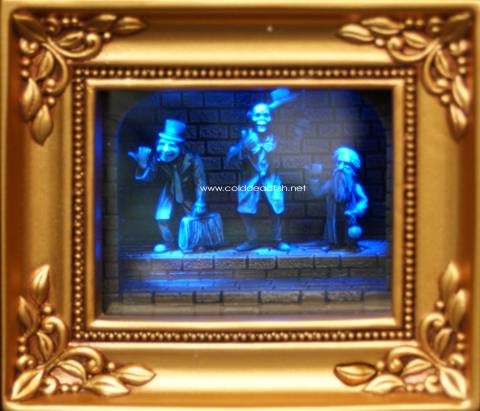 The hitchhiking ghosts.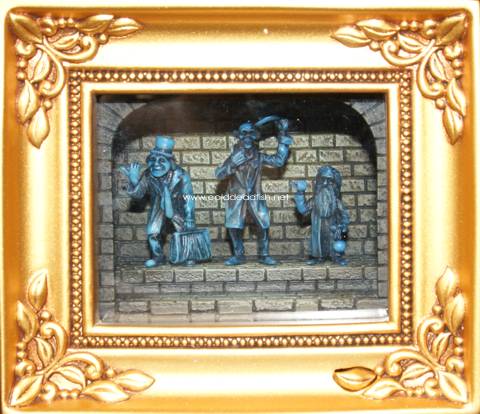 With flash, the ghosts look creepier.
The next release after the Electrical Parade floats will be the monorail nostalgia piece, to be released July 17, 2009. Olszewski Studios is still working with Disney to see if Disney will approve the stanchions for the front of the Main Street platform.
It had been previously announced that the release for November 2009 will be the combined Mr. Toad's Wild Ride/Alice in Wonderland attraction. The insert scene from Toad is currently contemplated to be Toad in the car headed for the train, and the insert scene from Alice is currently contemplated to be Alice in the vehicle with the doorknob ahead and the White Rabbit with the Cheshire Cat hanging about. They're also hoping to be able to recreate the outside track portion of the Alice ride. It would be cool to have the ride op area with the shoes on top of the mushroom.
The third set of Electrical Parade floats, scheduled for release in March 2010, will include the Cinderella and Peter Pan segments. The fourth set in 2011 will be the Dumbo section with the calliope and the lion segments, and the fifth set in 2012 will be the patriotic finale with the flag segment and eagle as well.
Olszewski Studios is working on the King Arthur Carrousel piece hopefully to be released in May of 2010, in celebration of Disneyland's 55th birthday. The July 17 piece released that year is still expected to be the House of the Future. Olszewski Studios is also working on a Snow White piece that is tentatively scheduled to be the November 2010 release, and it will also have scene inserts. If all goes as planned, a significant portion of Fantasyland will then have been completed, so hopefully, Disney will officially commission the rest of Fantasyland. I'm still patiently waiting for my Storybookland.
A question was asked about the Peter Pan shadow box light display (like the ones for Haunted Mansion and Pirates of the Caribbean) and whether Olszewski Studios would still be making that. Any such light display would be different than prior ones because the Peter Pan insert is different in that it has a roof attached instead of being just a sideways insert like the other two, so this shadow box would have to have a hole in the top for the insert to go in and a hole on the side to be able to see into it. It would also look a bit weird as a black box with a blue roof. The collector has also used shadow box light displays for all his Haunted Mansion and Pirates inserts, so there are no inserts in the pieces themselves. In the case of Peter Pan, though, that would mean his piece would have no roof since the roof is attached to the insert itself. While it's possible Olszewski Studios could still release such a shadow box for Peter Pan in the future, it's not high on the list.
Many collectors have either entered the collection late or haven't been able to keep up with all the releases or maybe encountered pieces that were sold out. Disney will be re-releasing probably one Main Street building per quarter, and what building is re-released usually depends on what collectors say they're missing. If you're missing any particular pieces, be sure to sign up for the Olszewski Studios mailing list . They will periodically send out questionnaires asking what buildings collectors are missing, so you can let them know at that time.
Olszewski Studios is getting ready to release another batch of painting/touch-up kits. Orders will probably be able to be submitted through their website in the next week or so, with shipping during the week of Christmas. Notification of availability of the kits will be sent out to the mailing list. Orders will be taken probably until mid-January. They will start with one gallon, which makes about 60 kits, and then order more if the numbers of orders calls for it.
John Lasseter recently did an interview with collider.com, and the interview includes video of his office. We'd been told a while ago that he's a big fan of Olszewski and is actually a collector of the Main Street collection himself, so it was nice to actually see the pieces in his office. Here's a link to the interview.
On the Walt Disney World front, the release of the next piece (front half of the Emporium and cinema/jewelry store) is tentatively scheduled for February 2009. And just as a side note, Walt Disney World also carries the Gallery of Light line, but they don't carry Heirloom Boxes or Pokitpals.
Four Gallery of Light pieces (Aladdin and Jasmine magic carpet ride, Ariel and Sebastian in grotto, Cruella DeVille car chase and Sleeping Beauty & Prince/love's kiss) were all released in November as scheduled. They can be purchased from the Olzewski Studios website and other retailers, and Disneyland should be getting their shipments shortly.
Four new Gallery of Light pieces will be available in April 2009: 1) from "Peter Pan" - Peter and the children flying over London with Big Ben; 2) from "Snow White" - in the diamond mine with five of the seven dwarfs; 3) from "Jungle Book" - Baloo and Mowgli floating down a river; and 4) from "Mary Poppins" - Mary flying in over London with her umbrella.
Three Heirloom Boxes (Mickey's 80th anniversary, Tink in lantern and Snow White/huntman's box) were all released in November as scheduled. They can be purchased from the Olszewski Studios website and other retailers, and Disneyland should be getting their shipments shortly. Olszewski Studios is working on other Heirloom Boxes, but an announcement of those pieces won't be forthcoming until after the new year.
New Pokitpals are scheduled for release in the first quarter of 2009. There's one with Minnie ($20), one with Dumbo ($20-$22) and one with Space Mountain ($20). I haven't purchased a Pokitpal yet, but I think that Space Mountain one is going to be my first. Olszewski Studios has also completed the other three pieces in the Haunted Mansion stretching portraits series ($22 each), one of which (lady with a parasol) is already in release. Disney may ask for one of them to be released in the first quarter of 2009 and save the other two for a later release or they may authorize the release of all three.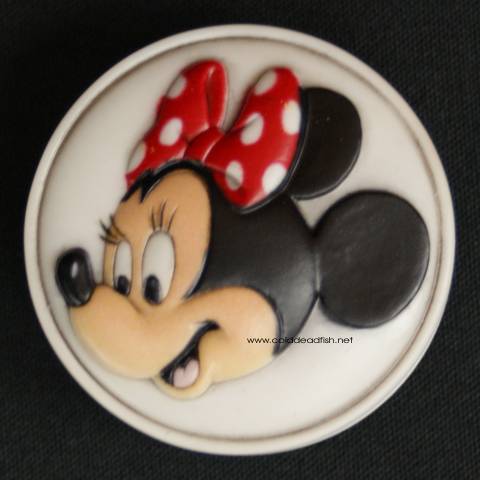 The front of the Minnie Pokitpal. She really looks pretty.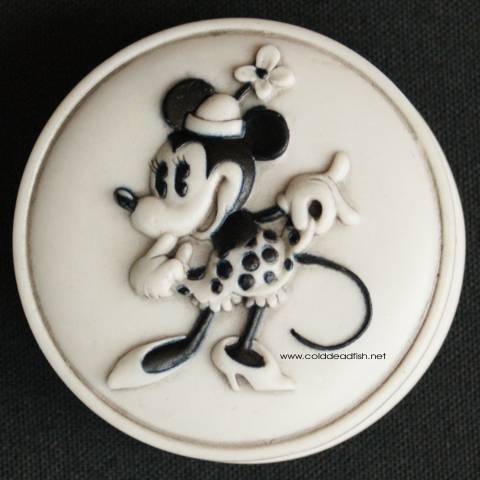 Old-style Minnie is on the back.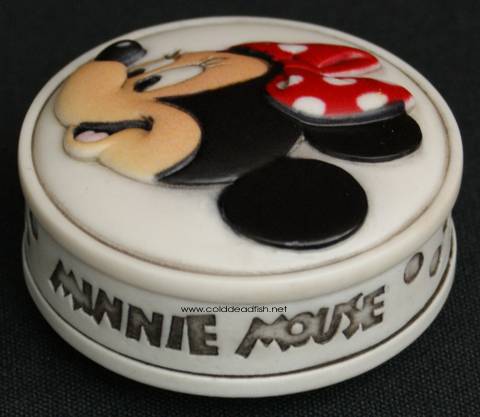 The side of the Pokitpal.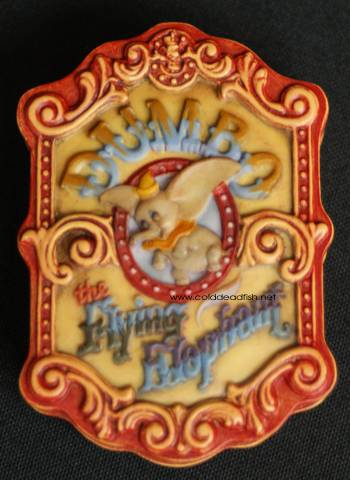 The front of the Dumbo Pokitpal. The coloring and detail are gorgeous.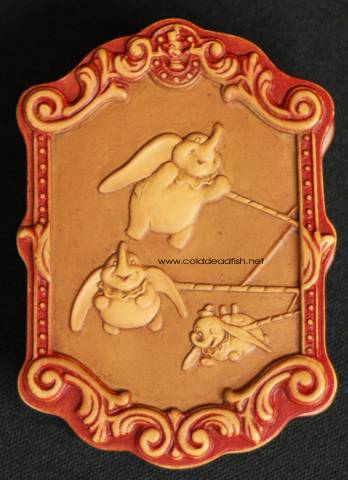 The back has flying Dumbos.
The front of the Space Mountain Pokitpal.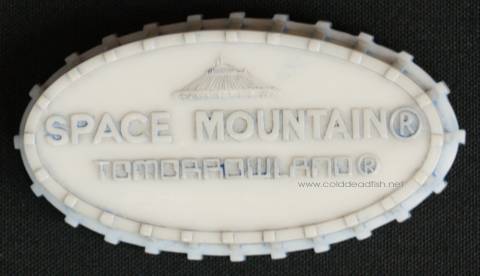 The back.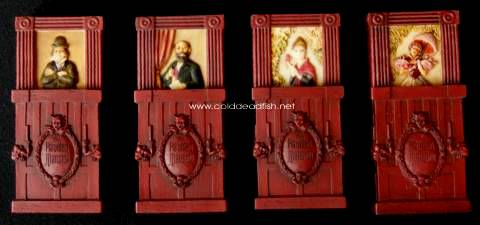 The four Haunted Mansion unstretched portraits.
The one on the right is currently available.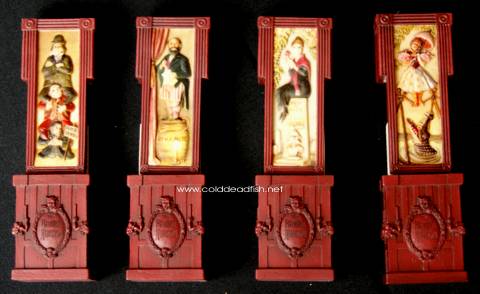 The four Haunted Mansion stretched portraits.
I love the logo on the front and the gargoyles on the corners.
In the last update, I mentioned Bruce Richards' website because he had the video of the Astro Orbiter that he motorized. Well, Bruce is back with another video, and this time, he's added motion to the Mad Tea Party. He did a really amazing job. Here's the link to the video of the spinning teacups. I noticed on his website that there's as yet no directory for the Mad Tea Party like there is for the Astro Orbiter and the Electrical Parade. He had mentioned that he's still working on the instructions for the Mad Tea Party, so more information should be forthcoming. He also seemed pleased that King Arthur Carrousel is now officially in the works because he's already talked about how he would motorize that. If his plans work out, that's going to be an even more amazing piece. We also had the chance to talk to him about ideas he has for simply modifying the Main Street platform so that the Electrical Parade floats could be placed on the platform and be lit. He also has thoughts about a system to have the floats actually running on Main Street, including with regard to some of the clearance issues that may arise. Bruce is very enthusiastic and yet also modest about his amazing work, and it's been fun to have the chance to talk to him. We've actually joked with him that so many collectors love his work that they'd probably be willing to pay to have him hold a class to show them how to do it or to contract him to do a particular piece for them. He's at every release, so if you happen to be there, it's definitely worth saying hi to him and getting a chance to chat with him. Just ask who Bruce is, and either Travis or one of us regulars will be happy to point him out.
After the event ended, we sat down at a nearby table to gather our things together and to wait to meet up with some friends for a little while. Once we knew where they were, we headed off to meet them, and at one point, we inadvertently found ourselves walking right next to Bob Olszewski and company. Bob said that in passing, he had mentioned to Disney that there was a particular attraction that he hadn't been on, and they offered to escort him there. He normally gets in the regular line just like everyone else, but on this occasion, he decided to take them up on their offer. I hope he enjoyed his ride. He had also mentioned that he was on another attraction earlier, and he thought about how he might handle that ride. I can't help but hope that both rides will result in attraction pieces down the line.
Olszewski Studios will be in attendance at the next NFFC show and sale on January 18, 2009 at the Crowne Plaza Resort Hotel near the corner of Harbor and Chapman in Garden Grove. They expect to have the four Gallery of Light pieces to be released in April 2009 to show, and there might be a surprise to see as well. We can only hope. We'll be in attendance, and an update will be posted with pictures of any new merchandise.
See you in January or April!
Back to Olszewski Disneyland miniatures main page.
Back to home.