Catal Restaurant - dinner - September 22, 2006

Catal is one of my favorite restaurants, and any excuse is a good one for a dinner visit, but when you're on a mission, it's even more fun.
We arranged to meet some fellow questers for dinner at Catal, and I arrived right on time for our 8pm reservation. My husband was already there and had checked in, so we waited for our table. I was surprised at how crowded the waiting area was at that hour, but apparently, they had been going through periods of slow and very busy during the course of dinner service. As we were about to be seated, three of our dinner companions arrived, with our fourth dinner companion arriving shortly thereafter. Our usual Catal dinner night is Sunday, but since we were making a rare Friday night visit, our favorite server, Ryan, was working, and we had asked for him. We were seated in the big round table in the rotunda, so there was plenty of room for all of us.
I spoke to the manager we had talked to a week prior about our special order request, and she said she had already spoken to the chef about it and that there wasn't a problem accommodating our request.
Catal's current menu (which is due to undergo its regular seasonal change in a few weeks) includes an entree of braised short ribs with caramelized onions and cabernet sauce with brie agnolotti. The kids' menu has a macaroni and cheese dish that I've actually tried, and it's a very tasty dish, with a good cheese sauce. I discovered that a few friends and I shared an affinity for good macaroni and cheese, and upon further consideration, it occurred to me that the braised short ribs over the macaroni and cheese would probably make a pretty tasty dish.
Four of us decided to have the combined dish, and I confirmed the order with Ryan. One serving of the kid's macaroni and cheese is actually quite generous, so we were figuring that half an order under the short ribs would work out quite nicely - not too little so as to be a garnish and yet not too much as to overpower the short ribs but enough to complement and mix in with the flavor of the short ribs.
One of the other people ordered the compressed salad as a main dish, and the other person ordered the lamb shank.
For an appetizer, three of us ordered three different salads (compressed, endive and caesar), another person ordered the soup of the day, which was carrot, and another person ordered the tuna tartare.
When the appetizers were brought, everyone enjoyed their choices.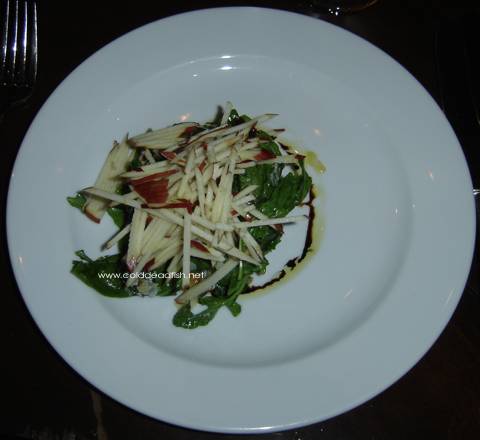 Compressed salad.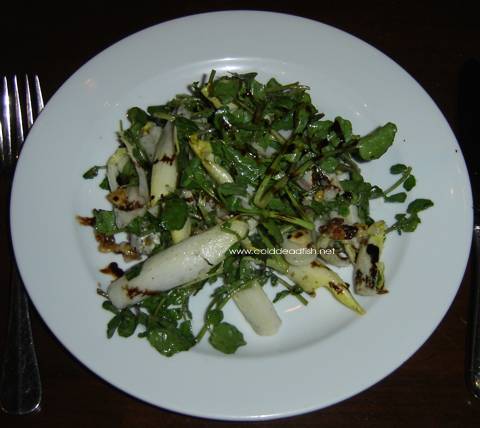 Endive salad.
Throughout the meal, we enjoyed good conversation amongst ourselves and our usual extended and entertaining conversations with Ryan.
And then, it was time for our entrees. The lamb shank was set down in front of the person who ordered it, and then I looked at the trays with the other entrees. And I was surprised and a bit disappointed to see that the short ribs were sitting on plates by themselves, and the orders of macaroni and cheese were in separate dishes. The short ribs didn't have the normal onions, agnolotti or sauce since they were going to be with the mac and cheese. When the plates were set in front of us, I figured we could just put the short ribs on the mac and cheese ourselves, but we had previously thought about just ordering the short ribs the regular way and then ordering the child's portions of mac and cheese and creating the combined dishes ourselves, but we figured it would work better for the kitchen to do it.
Ryan quickly arranged for the dishes to be sent back to the kitchen to be properly re-plated. The compressed salad was brought for the person who had ordered that, and after waiting a little longer, our dishes were brought back, with the short ribs sitting atop the mac and cheese.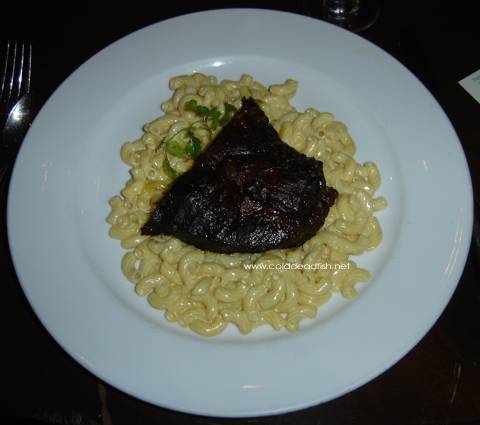 Short ribs with mac and cheese.
I had thought that there would perhaps be some sort of sauce on it since the mac and cheese would mix well with the flavor, and we discussed that, so we asked Ryan to bring some extra sauce out. He ended up bringing out both the regular braising juice and the cabernet sauce to see which we'd prefer. I think the cabernet sauce might have been ok, but we all opted for the braising juice instead since it was lighter.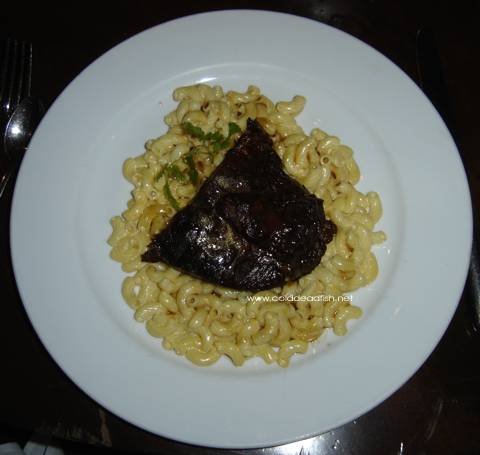 Even better - short ribs with mac and cheese and braising sauce.
The combination of the two was definitely as good as I had expected. The short ribs and braising sauce mixed with the mac and cheese had wonderful flavor together. I had not tried the dish without the sauce, but some of the others had, and they said that it was still good without the sauce, but it was definitely better with the sauce. The short ribs were a fairly generous portion, and I think that in making an actual short ribs with mac and cheese entree, a smaller or thinner cut of the short ribs would probably go better. The mac and cheese adds more body and volume to the dish, so you don't necessarily need as much of the meat. One of the runners later came by to tell us that in bring the dishes out to us, they looked pretty good, and he might be trying the dish himself later on.
The person who had the lamb shank enjoyed that dish as well.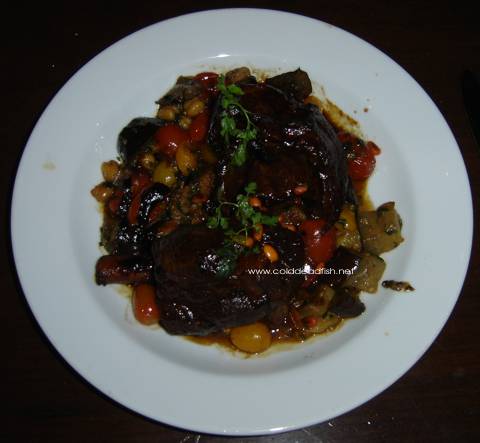 Lamb shank.
It then came time for dessert. A few of us ordered the trio of sorbets, which this night was peach, pina colada or pineapple (we weren't quite sure which it was) and cabernet. Two other people ordered the shortcake, and another person ordered the creme brulee. Everyone then enjoyed their desserts.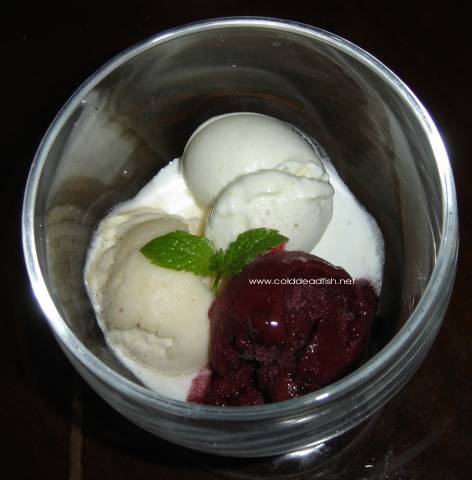 Trio of sorbets.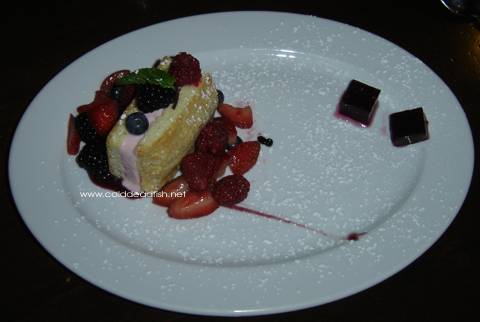 Shortcake.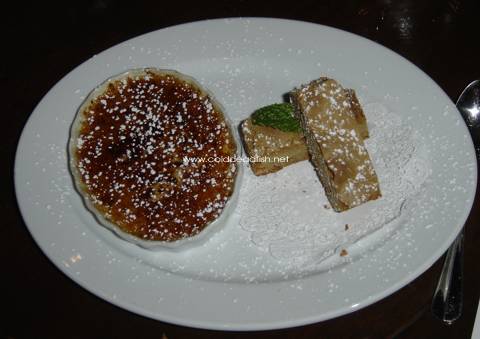 Creme brulee.
All in all, it was a wonderful dinner with good friends and great food and a really fun evening all around. Sometimes, chefs can be very reluctant to make any changes to their dishes, whether minor or major, and I appreciated that the kitchen was willing to make the special dish for us.
For other Catal Restaurant and Uva Bar reviews, please click here.
For the current dinner menu offerings, please click here.
For the current uva bar and cafe menu offerings, please click here.
For Catal Restaurant and Uva Bar menu offerings from prior seasons, please click here.
To see Catal's specific webpage in the Patina Group website, please click here. (Note that the menus on the site are out-of-date, but there are some nice views of the restaurant and some background.)
Back to DLR Restaurant Reviews.
Back to home.