Catal Restaurant - dinner - October 21, 2005

We had occasion to be at the Disneyland Resort on a Friday, and Catal had recently changed to their new fall menu, so a change in menu is always a good excuse to visit one of my favorite restaurants.
We arrived at the restaurant fairly early, at about 5:45. We had something to attend that evening, so we knew we wouldn't be able to have our normal leisurely dinner, but we wanted to try out Catal's new menu anyway. Our favorite server was working that night, so we were seated at one of his tables. In perusing the menu, I decided to start with the pan-roasted diver scallops with grilled watermelon, tomato chutney, pistachios and a warm bacon vinaigrette and then for the entree to have braised lamb shank with crispy blue cheese polenta, a trilogy of cauliflower and black berry lamb sauce. My husband opted for the pan-seared lemon fish with coconut-lemongrass broth, citrus, chili tapioca and soy beans as a starter, followed by the chestnut crusted pork chop with spiced granny smith apple risotto and honey pork jus. At that early hour, there weren't very many other diners in the restaurant, so we had a chance to chat with our server and a few other people there.
Our appetizers were brought out shortly thereafter.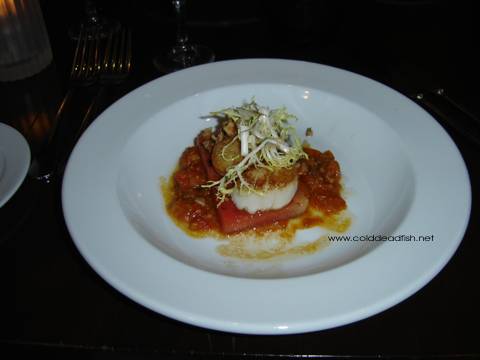 Pan-roasted diver scallops.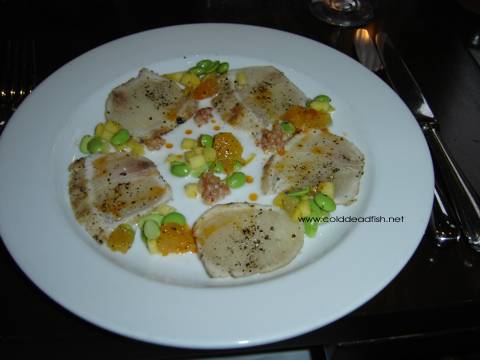 Pan-seared lemon fish.
I really enjoyed the scallops, and since I'm a big fan of tomatoes, the tomato chutney added a really nice flavor to the scallops. The grilled watermelon was an interesting addition to the dish. I wasn't sure I'd like the taste of the scallops and watermelon together, so I had them in alternating bites, and they provided a nice contrast to each other.
My husband wasn't as happy with his appetizer as I was with mine. The lemon fish is actually only lightly seared on the side, so the middle is still uncooked. Though he didn't hate the flavoring of the dish, it just didn't do anything for him, and he said he wouldn't order it again. I enjoyed the taste that I had, so I'd probably order it in the future for myself.
Next up were the entrees.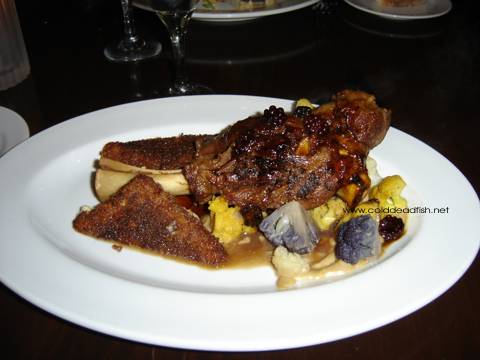 Lamb shank.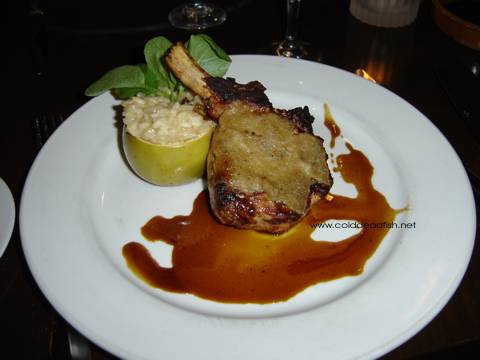 Chestnut crusted pork chop.
While I've come to really love lamb, I generally have lamb chops. I've had lamb shank once before and though it was at another favorite restaurant, I hadn't cared for the dish that much. However, I still decided to try the lamb shank at Catal. I did really enjoy the dish, and the flavoring of the lamb was very good, but I discovered why I might not have previously enjoyed it. The shank part of the lamb is a bit gamier, tougher and heavier, with a different consistency and flavor than the chops. While I did enjoy the dish, I now know that I prefer lamb chops to shank. I am a huge fan of polenta, so I was happy that it was an accompaniment, but I'm not particularly a fan of blue cheese. I really enjoyed the crispy polenta cake, but I probably would have enjoyed it more if I really liked blue cheese. The blue cheese was stronger than I would have preferred. The cauliflower on the side added a nice contrast to the meat as well.
Catal normally has a pork chop entree on their menu, and it's only in the preparation that it changes. Both my husband and a good friend of ours tend to like Catal's pork chop, and in this instance, the case was no different for my husband. He really enjoyed the flavor of the pork chop, and he also enjoyed the light apple flavoring of the risotto.
By the time we finished our entrees, we noticed that the restaurant had gotten very crowded. Almost all of the tables were taken, and there were a number of people waiting to be seated. It was about 7pm at that point, still early in the dinner rush on a Friday night.
The dessert menu doesn't always change at the same time as the regular menu, so there were no new desserts to try. I decided to have the trio of sorbets, which this night was coconut, green apple and mixed berries. My husband opted for the creme brulee trio, which consisted of vanilla, hazelnut and pomegranate.
A trio of sorbets.
I have come to really like coconut in my desserts, and the coconut sorbet had really good flavor, with bits of coconut in the sorbet. The mixed berries flavor was good, as was the green apple, though the green apple sorbet was a bit more icy than the others. I have ordered the sorbet trio on several occasions, and I've noticed that it's a fairly generous serving, with one big scoop of each of the evening's flavors. Each time that I've ordered it, even with friends taking bites, I've never been able to finish the sorbet. My husband enjoyed the creme brulee.
Knowing that we were in a hurry, our server had brought us our check after taking our dessert orders, so by the time dessert arrived, we'd already settled our bill. We ended up rushing through dessert a little, but then we're normally used to lingering throughout our meal. We left the restaurant at about 7:30, just about when we figured we'd need to leave.
There are a number of other dishes on the new menu (including a duck leg confit and miso marinated Mako shark) that I want to try, so we'll definitely be going back several times during the course of this menu.
For other Catal Restaurant and Uva Bar reviews, please click here.
For the current dinner menu offerings, please click here.
For the current uva bar and cafe menu offerings, please click here.
For Catal Restaurant and Uva Bar menu offerings from prior seasons, please click here.
To see Catal's specific webpage in the Patina Group website, please click here. (Note that the menus on the site are out-of-date, but there are some nice views of the restaurant and some background.)
Back to DLR Restaurant Reviews.
Back to home.