Mother's Day Brunch Buffet at the Disneyland Hotel - May 12, 2002
The Disneyland Resort offers a Mother's Day brunch in the Grand Ballroom of the Disneyland Hotel from 7:30am to 3pm. Entitled "Disney's Royal Buffet", the brunch highlights Snow White, Aurora and Cinderella. The price excluding tax and tip is $52 for adults and $13 for children ages 3 to 11. Children under 3 are free. Seniors are given a 10% discount (available only to the senior, not to the entire party). Premium annual passholders receive a 10% discount for the entire party, and cast members receive a 20% discount for the entire party, valid only during designated (non-peak) times, and the cast member must be present. Reservations are highly recommended as you could be faced with a fairly long wait time otherwise.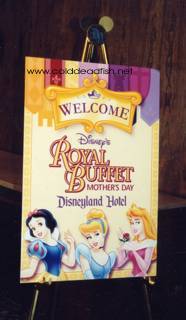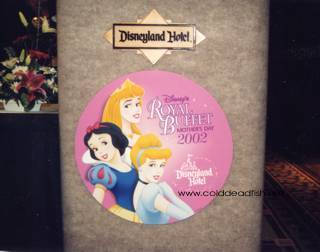 Signs in the lobby announcing the Royal Buffet.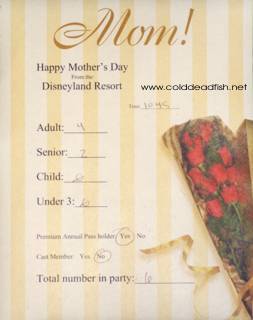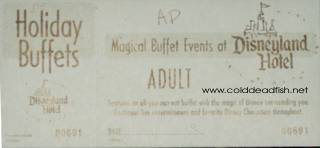 Reservation cards at check-in.
After you check in at the podium in the lobby, you are asked to go to the waiting area just outside the grand ballroom. You check in again at the podium there, and as you wait to be called, there is orange juice, tea and coffee available as well as a television showing a video of a Disney movie. Once your name is called, you are escorted into the grand ballroom to your table, and everyone is given a button to commemorate the visit.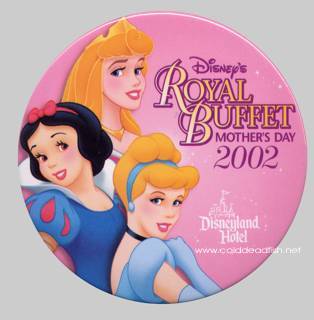 The souvenir button.
Once you are seated, the server then takes the drink orders, including champagne if desired. The service is excellent, with drinks often refilled and the wait staff very attentive.
The Royal Buffet offers an extensive variety of food, with two complete food stations to serve all of the guests.
Here is a list of some of the items offered, which range the gamut from breakfast to lunch to dinner to dessert: au gratin potatoes, wild rice, vegetables, sirloin brochettes, crab stuffed sole, whole rotisserie herb stuffed roasters, ham, prime rib, pasta bar, breads, field of greens, tomato and mozzarella salad, oriental shrimp and Japanese cucumber salad, tortellini pasta and grilled vegetables, caesar salad, stir fry bar, cheeses, crab legs, fresh prawns, smoked ham and turkey carving stations, salami, crudite and smoked salmon.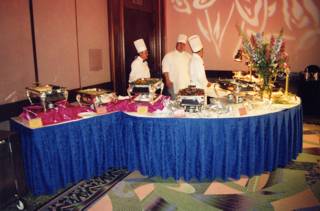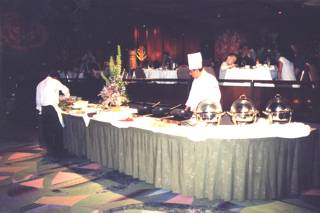 Carving station and stir fry bar.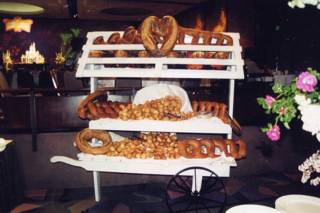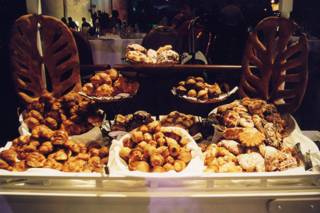 An abundance of breads is offered.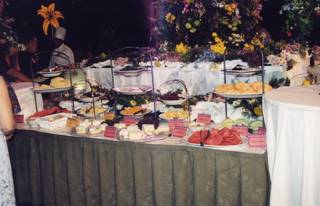 Fruits and cheeses.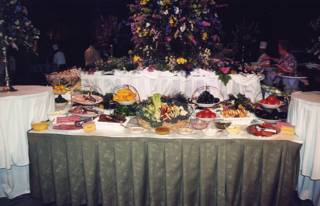 Crudite and smoked salmon.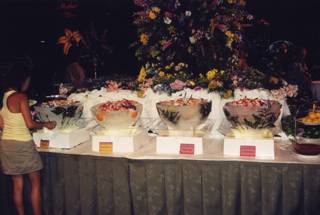 Crab legs and fresh prawns.
In the breakfast section, offered are waffles, eggs benedict, bacon, scrambled eggs and an omelet bar. Unfortunately, they only have the already-cracked eggs for making the omelets and don't have unbroken eggs, so while I do like eggs over easy, they aren't able to make those. But, just a minor thing.
The dessert offerings, which are placed on tables that encircle a castle, include an assortment of fruit (raspberries, pineapple, strawberries, watermelon, blueberries, melons and grapes), jello, dessert crepes and other goodies (mousse, tiramisu, eclairs, swans, baked apples, peach cobbler, tarts, cappuccino cheesecake, lady slippers with chambord mousse, and sugar free desserts: chocolate mousse, cheesecake, strawberry mousse).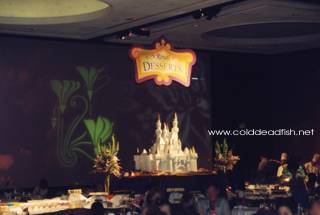 Desserts.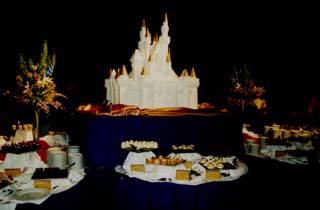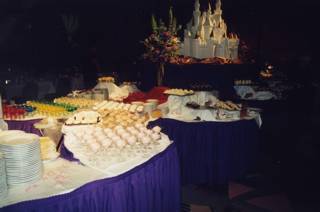 The vast array of desserts offered.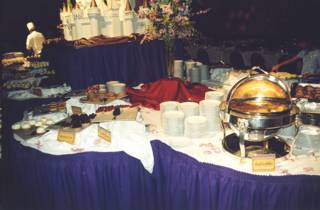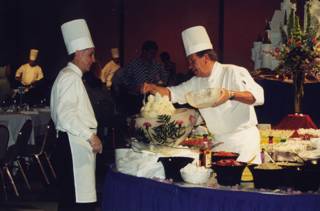 More desserts, including crepes.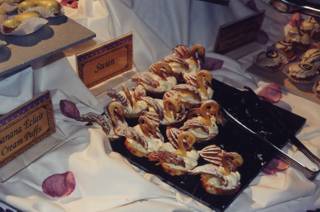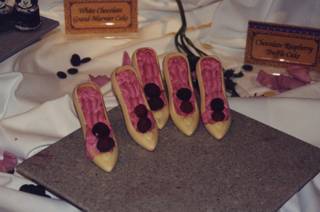 Swan and lady slipper desserts.
There are also separate stations for items designed for children. These items are even placed at smaller tables, closer to the children's reach. The items offered include macaroni and cheese, mini hamburgers and hot dogs, fries, Mickey chicken nuggets, pudding, rice krispies squares, cookies and jello.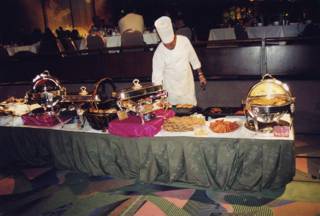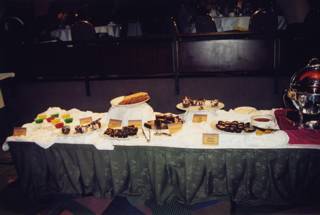 Children's food and dessert stations.
In addition to the wonderful food available, the Royal Buffet also offers many other visual and entertainment delights. There are light projections on the various walls of butterflies, flowers and "Happy Mother's Day". The table flowers consist of roses and tulips, and there are also amazing flower arrangements in the food stations themselves. There is also a demonstration carving area where you can watch chefs carve various fruits and vegetables into decorative shapes.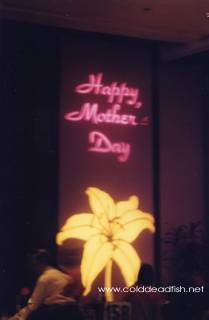 One of the many wall light projections.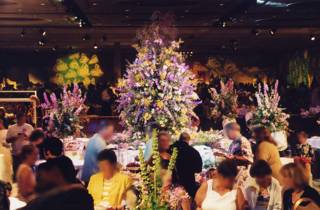 The food stations are filled with beautiful flowers.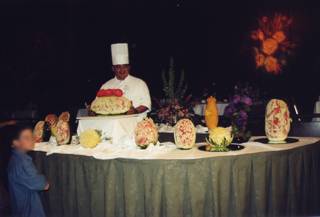 Fun things you can do with fruit and vegetables.
On the main stage is Cinderella's coach, with a musical trio consisting of a harpist, a violinist and a bassist that provide wonderful music to accompany the experience.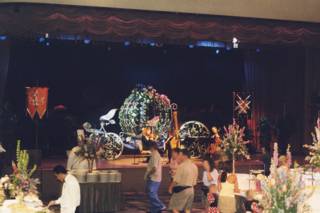 On the main stage.
There are also two photo spots available. One location has a castle backdrop, with the characters of Belle and Beast; Chip, Dale and Minnie; and Donald, Daisy and Pluto in rotation at that location. A second location has the well/mine/cottage backdrop from "Snow White and the Seven Dwarfs", with Snow White and dwarfs such as Doc, Sneezy and Dopey in rotation at that location.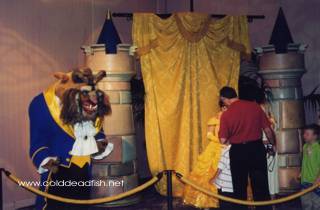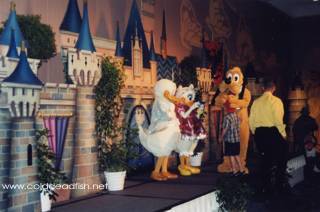 Castle backdrop photo spot.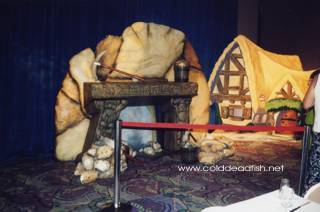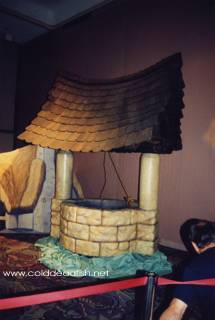 The dwarfs' photo spot.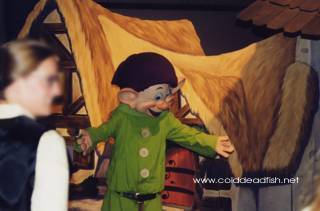 Dopey greeting the next guest.
A host of other characters also make their way among the tables, greeting and interacting with the guests.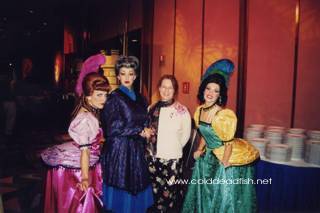 The evil stepmother and her daughters pose with a guest.
We have been attending the Mother's Day Brunch at the Disneyland Hotel for several years now and really enjoy being able to pamper our parents with the food, entertainment and just generally wonderful experience offered there. When Disney does it well, they're the absolute best, and this is definitely a perfect example of Disney being the best.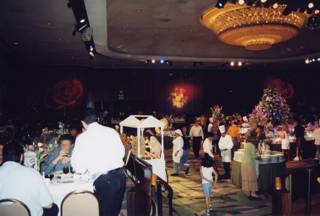 An absolutely Disney experience.
To read about the 2003 Mother's Day Brunch, please click here.
To read about the 2004 Mother's Day Brunch, please click here.
Back to DLR Restaurant Reviews.
Back to home.