Disneyland Hotel - Mother's Day Brunch - May 11, 2003
The Mother's Day Brunch in Disneyland Hotel's Grand Ballroom has become a tradition for us over the past several years. It has apparently become a tradition for many others as well, as reservations seem to have been snapped up very early this year so that we were given an earlier time than we had the previous year. For anyone interested in going next year, I would suggest making reservations as soon as they are available.
From the lobby area, there is a sign directing guests to the foyer of the ballroom where registration is done.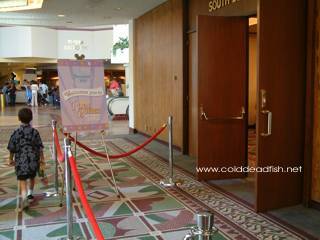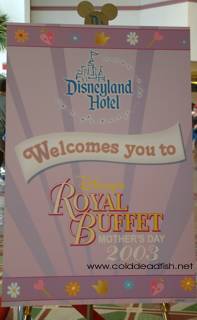 Entranceway to the foyer and outside signage.
Once you enter the foyer area, there are stations set up for guests to pay for the brunch.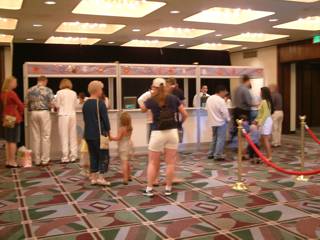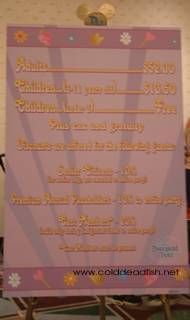 Guests waiting in line and the brunch price list.
You then proceed to an anteroom, where there are refreshments (coffee, tea and orange juice) available and a picture spot. There is also an area with a television set and VCR that normally plays a Disney video to also keep guests occupied, but the set was not turned on when we were there.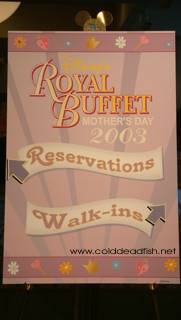 Guests with reservations and walk-in guests are both welcome.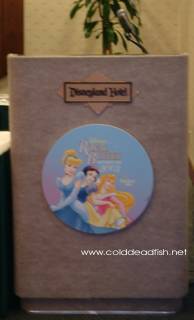 A podium with this year's design.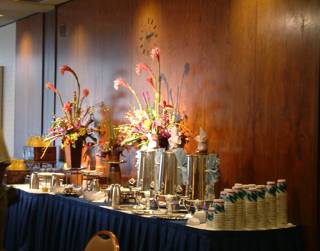 The beverage station in the anteroom.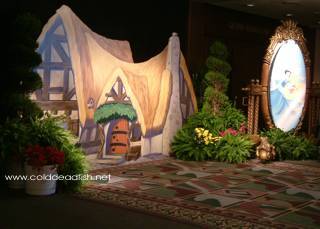 The picture spot in the anteroom.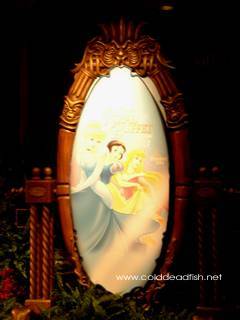 A closer look at the magic mirror.
Once your table is ready, you are called to the podium, given a commemorative button and then taken to your table. The server then advises you regarding the food stations and then takes your drink order.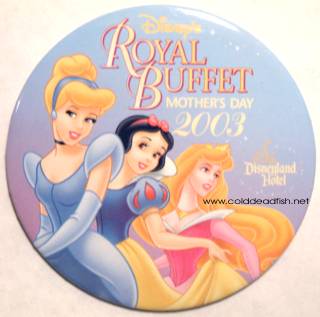 2003 souvenir button.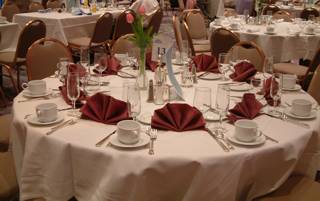 A beautifully decorated table ready for the next guests.
The menu item offerings this year were much like the offerings from last year, which include a wide variety of breakfast, lunch and dinner items. A few of the specific changes included a spring roll bar this year instead of the stir fry station last year. In addition to the omelet bar offered each year, there was also a pasta bar offered this year. As in years past, there are two full stations spread out in the expanse of the ballroom so that lines are kept at a minimum and diners need not traverse the length of the ballroom to get to a particular food station. As with last year, there is also a children's food station, offering items for little ones at tables more easily reachable by them as well.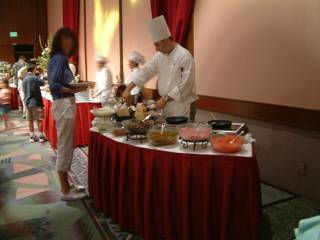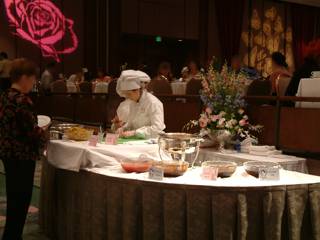 The omelet bar and spring roll bar.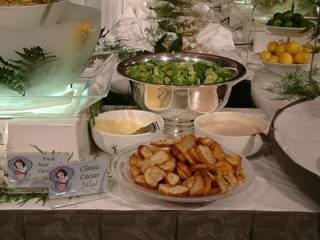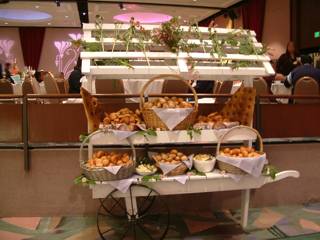 Caesar salad fixings and a cartful of bread.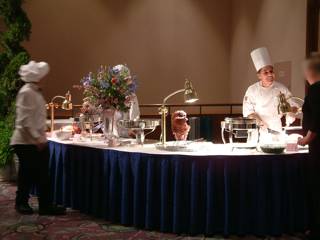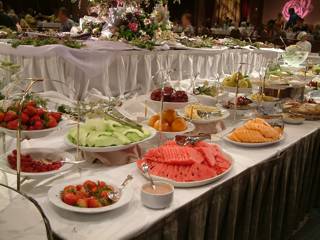 The carving station and a selection of fruits.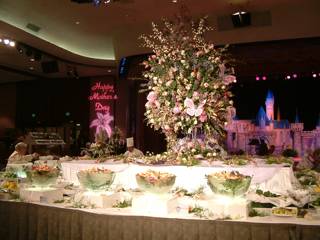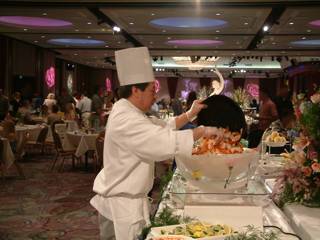 Seafood offerings - crab legs and shrimp - which are constantly refilled.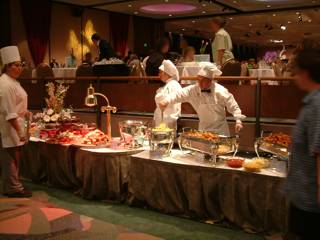 Children's food station.
As in years past, the dessert stations were beautifully designed and the offerings themselves numerous and delicious. One special addition this year was the chocolate dipping stations. A river of chocolate cascades down a stack of vases, and there are numerous items available (marshmallows, puffed rice squares, bananas, shortbread Mickeys and strawberries) to choose from. Once you've made your choices, you hand the plate over to the chef, and he dips each in chocolate for you and then hands you back your plate. What a wonderful idea that looks spectacular as well.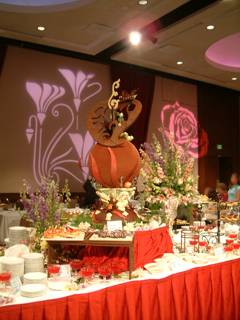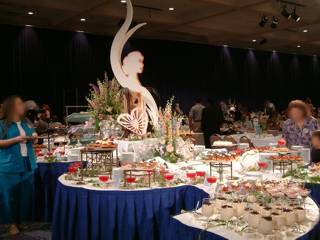 The two main dessert stations.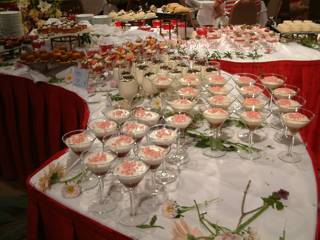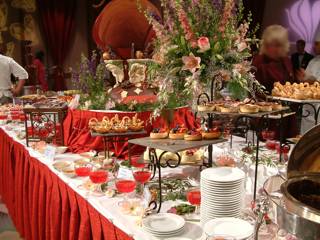 Some of the desserts offered.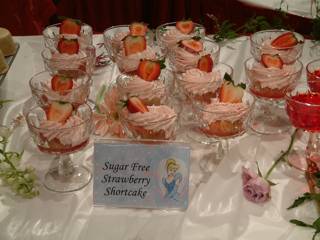 Even sugar-free desserts are offered.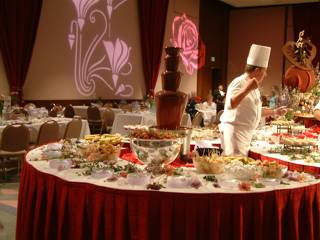 Definitely not sugar free - the chocolate dipping station.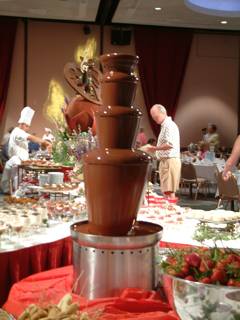 The cascading chocolate.
Complimenting the wonderful food being offered were beautiful decorations throughout the ballroom, whether in the food stations themselves or projected on the walls.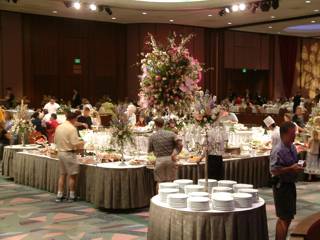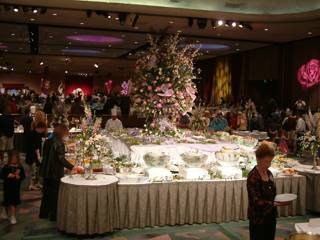 Beautiful flower arrangements, big and small, adorn the food stations.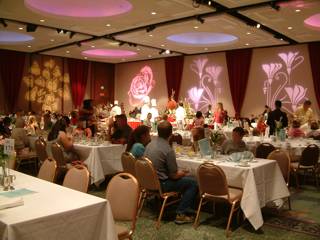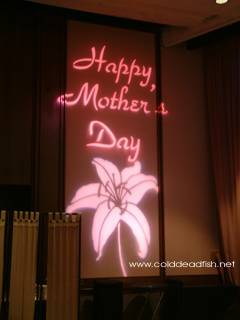 The walls lit with flowers and greetings.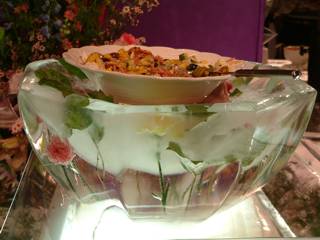 Even the bowls keeping the food cool were embedded with flowers.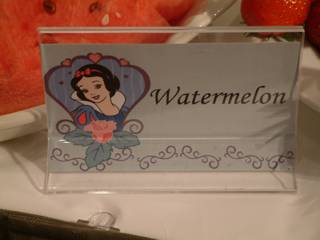 Each of the signs had either Snow White, Aurora or Cinderella on it.
As you take a break from your meal, deciding on your next course, there are other delights to keep you entertained. On the main stage, in front of a castle backdrop, are a trio of musicians playing Disney songs.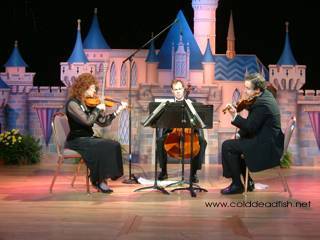 A trio of musicians.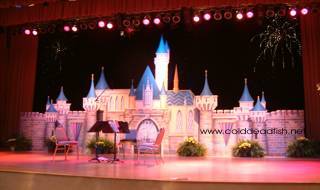 The trio is on a break, but notice the fireworks behind the castle.
The ever-popular vegetable and fruit carver was again there. He often drew crowds who watched in wonder at his skill.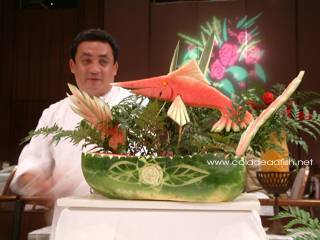 The carver and his master creation.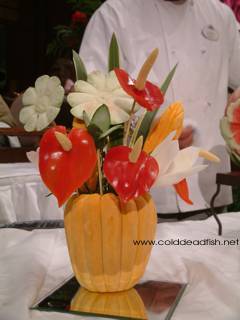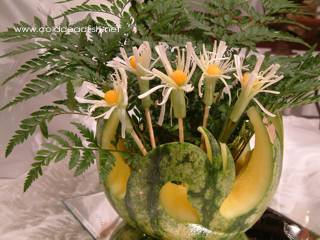 A few more of his creations.
On the left, the bright red flowers were made from bell peppers and baby corn.
No Disney experience would be complete without Disney characters available to greet the guests and pose for pictures. There were three separate stations with characters that rotated through on a regular basis. One thing missing this year were additional characters who walked around the ballroom interacting with guests.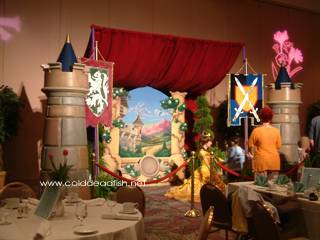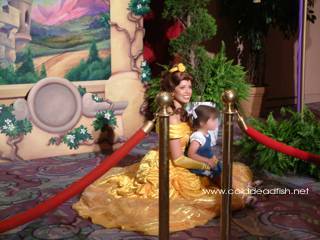 Belle greeting her next guest and posing for a picture with a young fan.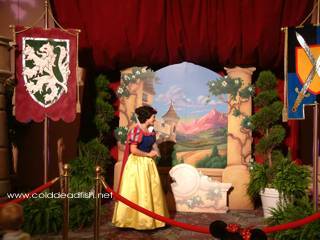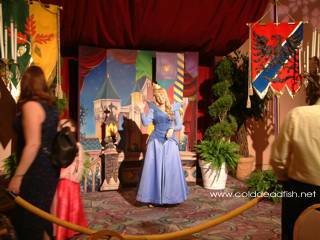 Snow White waits for her next guest as Aurora bids farewell to other guests.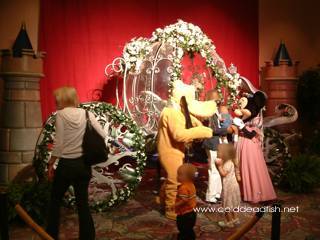 Pluto and Minnie in front of Cinderella's coach.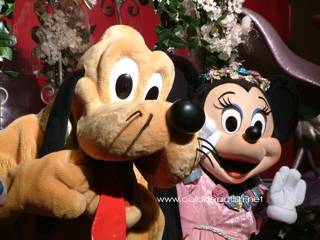 Pluto and Minnie posing for a picture.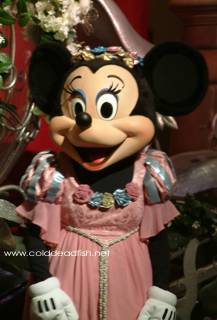 Minnie in her beautiful dress.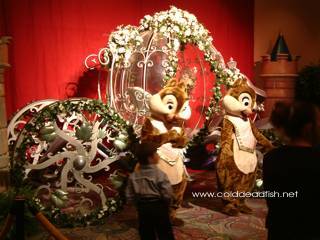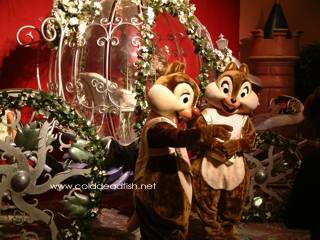 Chip and Dale dressed as Cinderella's coachmen.
As usual, the service was wonderful, making a splendid experience perfectly complete.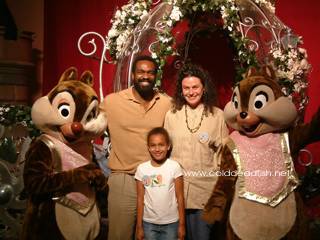 A happy family enjoying Mother's Day Brunch with Chip and Dale.
To read about the 2002 Mother's Day Brunch, please click here.
To read about the 2004 Mother's Day Brunch, please click here.
Back to DLR Restaurant Reviews.
Back to home.