Disneyland Hotel - Mother's Day Brunch - May 9, 2004
We've been going to the brunch for several years now, and we had a wonderful time this year as well. The food stations were set up a bit differently this year. Usually, there are identical food stations set up on either side of the ballroom, and then there's a different food station set up in the "pit" area in front of the main stage, where they have the crab legs and shrimp and other items. This year, that station was sort of duplicated on the far side of the ballroom, which is where we ended up sitting (near the photo ops areas), but it wasn't an exact duplication, and they sometimes ran out of items or didn't have items, so I ended up going back to the lowered section anyway.
One thing they added this year that I was really happy about: they had whole eggs! I really like fried eggs, but they've not had that in previous years at the Mother's Day brunch. They just had eggs that had already been beaten to make omelets. But they had bowlfuls of fresh eggs this year.
The only thing that slipped a little this year was the service. We noticed that they had far fewer people working, and usually, they had a server and busboys, but this year, they only had busboys. We had to wait quite a while for all our drinks, and our busboy would forget to bring them, and a few times, we had to wait quite a while for refills. About half-way through our meal, they ended up switching people because we were then helped by a different person. Don't really know why that happened. It wasn't enough to really make a mark on our good time, but it was something we noticed because in previous years, the service has been wonderful.
I noticed that this year, they had a quartet playing on stage rather than a trio.
I liked that they changed the button design this year as well. It's been Cinderella, Snow White and Aurora the last couple of years, so it was nice that they went back to Cinderella and her fairy godmother.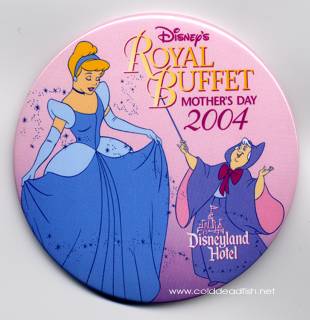 This year's souvenir button again focuses on Cinderella.
It was also much less crowded this year. We noticed there were a lot more tables that were empty than previously.
There weren't that many changes in the brunch this year as far as menu offerings and decorations. They still had the projected flowers and signs on the walls, and they still had the beautiful floral displays.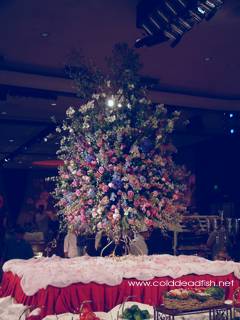 One of the amazing floral decorations.
The chocolate fountain was back in the dessert area, and there were again photo areas where pictures could be taken with various Disney characters. The ever-popular fruit and vegetable sculpturer was back, and he had an amazing array of creations as usual.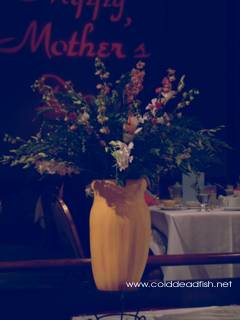 A specially-created vase to hold some beautiful flowers.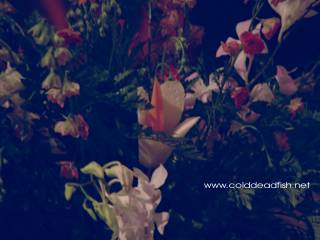 The flowers themselves contain a special, hand-made addition.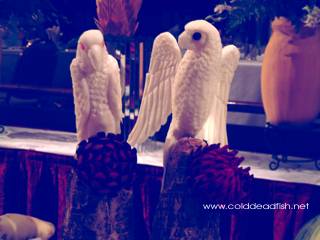 A group of parrots.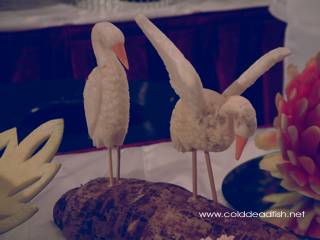 Some swans are added to the aviary.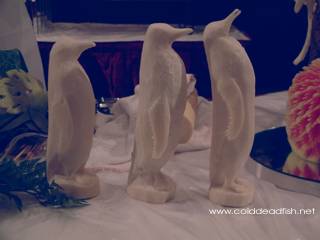 And of course, no menagerie is complete without a line of penguins.
To read about the 2002 Mother's Day Brunch, please click here.
To read about the 2003 Mother's Day Brunch, please click here.
Back to DLR Restaurant Reviews.
Back to home.